Posted by Pinto Ranch on Oct 31st 2018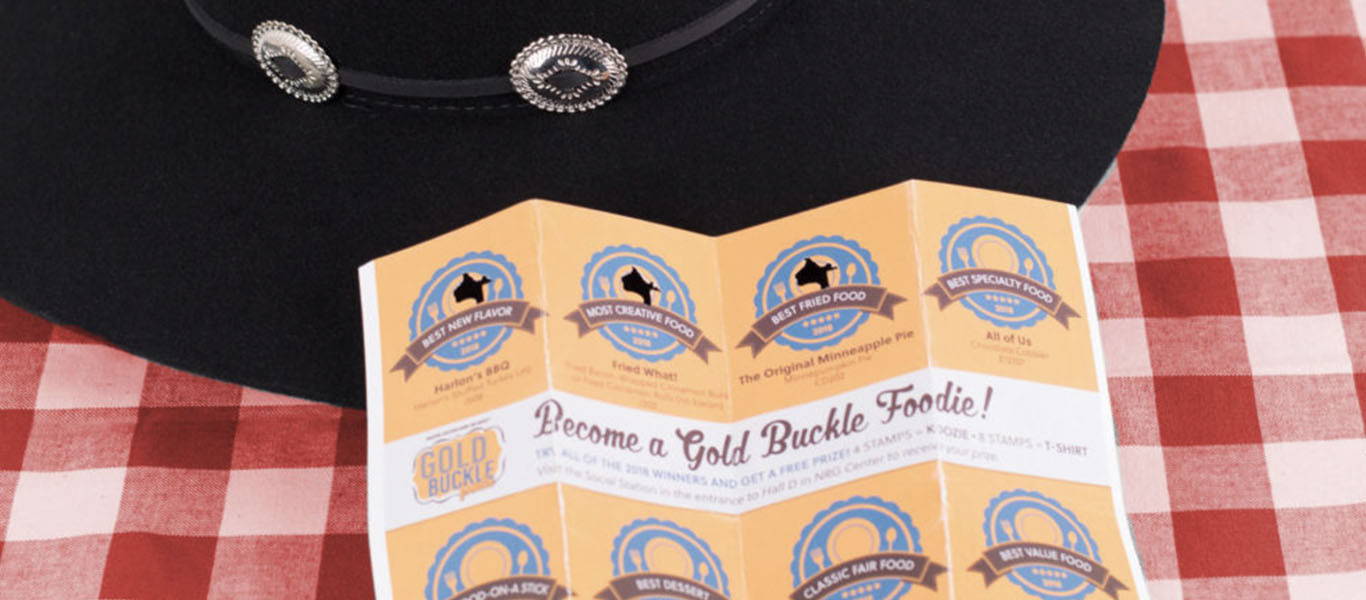 Every spring city slickers and cowboys alike flock to NRG Park to experience the true meaning of western heritage at the Houston Livestock Show and Rodeo™. Among the livestock, rodeo competitions and country music concerts, guests will find some of the best and most unusual carnival food our great state has to offer. We spent an afternoon taste-testing the Gold Buckle Foodie award winners along with some of our long-time Houston Rodeo food favorites.
Alamo Tamale & Taco: Homemade Tamales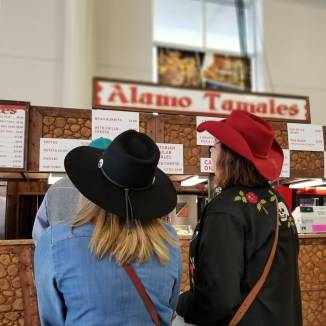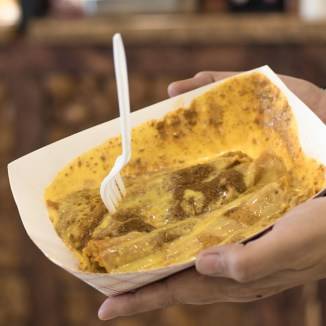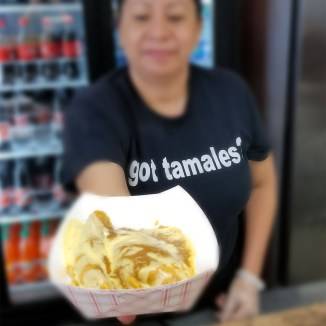 While not on the Foodie award winner list, Alamo Tamale is a Rodeo staple located inside the NRG Center lobby just outside of all the shopping. These delicious tamales come two ways… regular or handmade. Go for the handmade tamales just like Abuelita used to make. Give your dish some Tex-Mex style and add chili and cheese. You won't regret it! Bring cash… Alamo Tamale doesn't accept credit cards.
3 Tamales + Extra Toppings = $10.00
Harlon's BBQ: Harlon's Stuffed Turkey Leg
Best New Flavor Gold Buckle Foodie Winner
Live your fashion life to the fullest in the newest addition to the statement sleeve category. This oversized sleeve adds structure and style with triple-tiered construction that looks best when worn off the shoulder balancing the billowing sleeve. Go big with cabbage sleeves… or go home.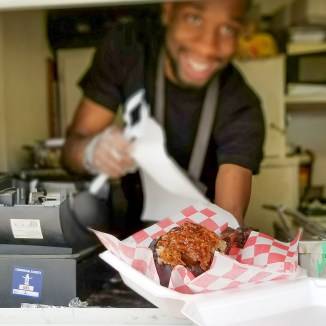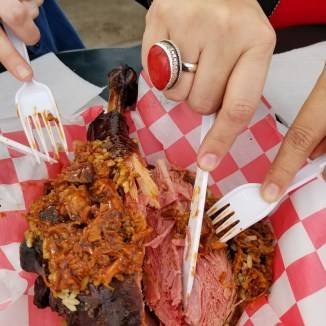 The most intimidating and most expensive of all the award-winning rodeo food, this giant turkey leg takes the carnival favorite to a whole new level. If you're wondering how one might actually stuff a turkey leg, here's the answer. The smoked turkey leg is cut in half and stuffed with a mound of chopped barbecue beef and rice. Warning: this is a knife-and-fork turkey leg. It is not something you can walk around and eat. And there's plenty to share! During our visit, the three of us could not quite finish it all.
1 Stuffed Turkey Leg = $22.00
Fried What!: Fried Bacon-Wrapped Cinnamon Rolls
Most Creative Food Gold Buckle Foodie Winner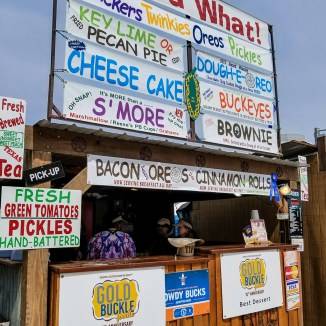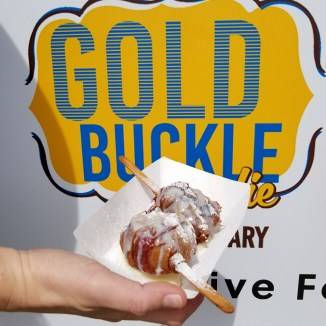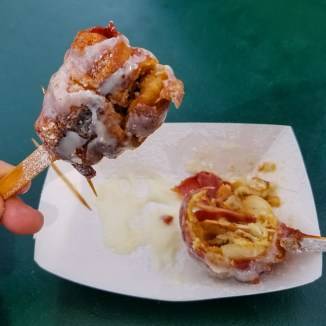 You can't go wrong with bacon. This bacon-wrapped cinnamon roll delight comes two to an order and warm on sticks! Easy to eat AND delicious. The owner of Fried What!, this year's winner for Most Creative Food uses her own original recipe batter and comes up with a new idea each year. Past favorites include Fried Key Lime Pie, Fried S'mores and the Buckeye Sundae (see below). This little booth is easy to miss. Look for it just outside of NRG Center where the kiddie carnival begins.
1 Order of Bacon-Wrapped Cinnamon Rolls (2) = $8.00
Fried What!: Buckeye Sundae
Best Dessert Gold Buckle Foodie Winner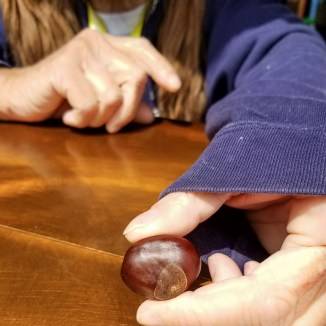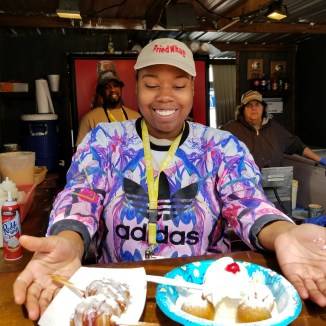 Same booth… different award! Fried What!, winner of the Best Dessert award, does it again with the Buckeye Sundae. Inspired by the actual buckeye nut (or the Ohio State Buckeyes if you're a fan), this dessert is a milk chocolate-covered peanut butter ball of deliciousness imported from Ohio then battered and fried for even more deliciousness. It doesn't contain any actual buckeyes, it's just made to look like one. And as a bonus, it comes á la mode with a mound of vanilla ice cream and whipped cream. Definitely a new Pinto favorite!
1 Order of Buckeye Sundae (3 buckeye balls) = $8.00
Sudie's Catfish House: Fried Bread Pudding On a Stick
Best Food-On-A-Stick Gold Buckle Foodie Winner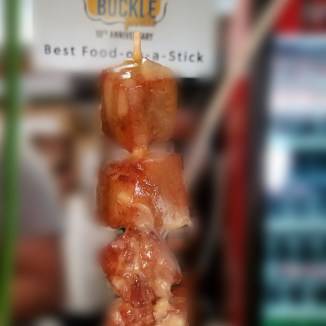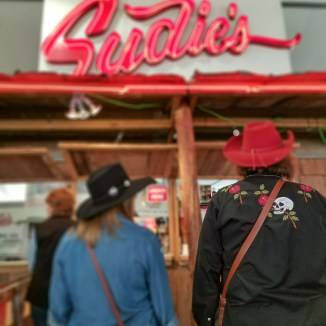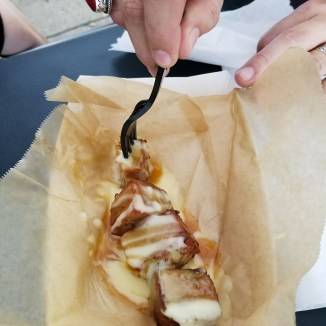 Don't let the food-on-a-stick moniker fool you, this yummy concoction is too gooey to eat vertically. This "Best Food-On-a-Stick" winning dish requires a fork and a napkin. The fried bread pudding bites are drizzled with a delicious sauce, served warm and easy to fight over.
1 Fried Bread Pudding On a Stick = $6.00
The Original Minneapple Pie: Minnepumpkin Pie
Best Fried Food Gold Buckle Foodie Winner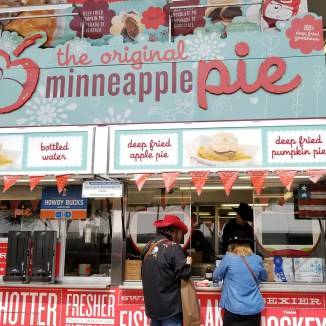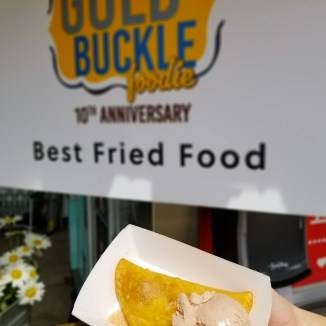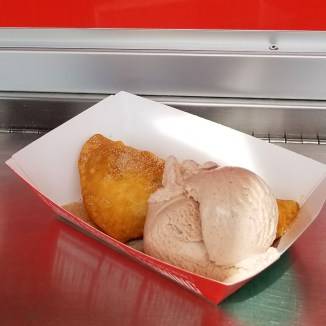 Fried pie isn't a new idea in the carnival food game, but Minneapple does it best! The crust was so light and flaky and not greasy at all. Served with your choice of a vanilla or cinnamon ice cream scoop. With a variety of flavors to choose from, we tried this year's winning pumpkin pie. If you're a pumpkin pie enthusiast, you definitely don't want to miss this creamy, flaky, tasty, crust-with-every-bite dessert. Even the cinnamon ice cream was outstanding. We think they deserve the award for cutest food booth too… located on the Circle Drive in front of NRG Center.
1 Minneapple Minnepumpkin Pie = $6.00
Pit Stop at Fruteria Cano
After a long walk around the park, stop for a refreshing beverage or Aguas Frescas made with fresh fruit. We highly recommend the watermelon. Not too sweet and just the right amount of fresh fruit pulp.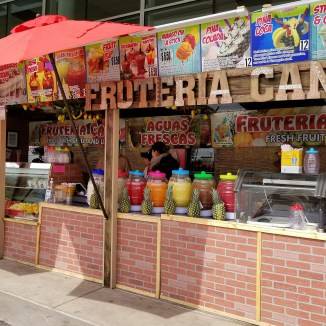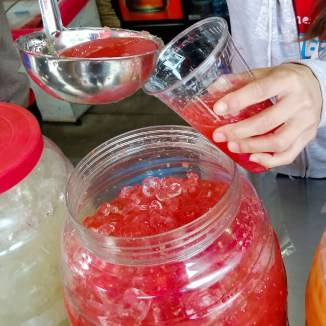 Yoakum Packing Company: Bacon Blast Croissant
Best Value Food Gold Buckle Foodie Winner
Did we say we like bacon? We were really looking forward to trying this amazing idea of bacon + butter + bread, but were quite disappointed to find out that it's only available until 11 am for breakfast. So if you find yourself at the Rodeo during breakfast hours… check this one out and let us know how it is! Plus Yoakum has two locations at the Rodeo. You'll find the award-winning croissant inside the NRG Center lobby.
The Quest for the Pickle Corn Dog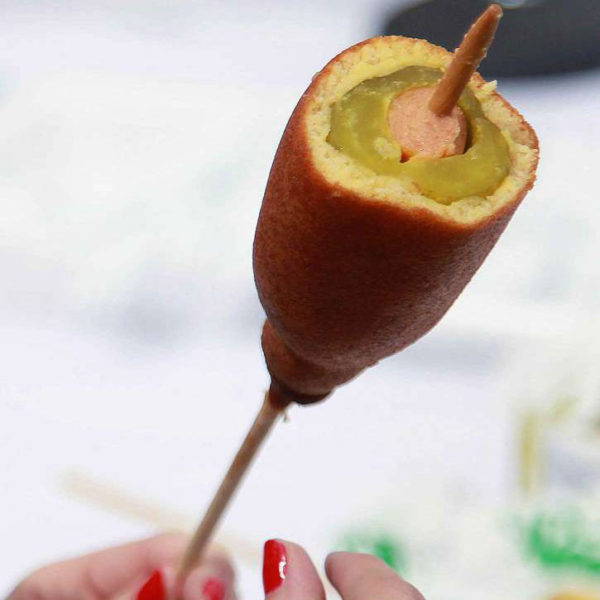 Recent press from the Houston Chronicle and others may have one believe that this Houston rodeo food staple is a must-eat at this year's show. And as a Pinto favorite from years past, we saved our beloved pickle corn dog for last. After tasting a string of award-winning desserts, we craved the savory taste of a hot dog inside a hollowed-out dill pickle inside a corn dog battered cocoon fried on a stick. Walking, for what seemed like an eternity, through the carnival midway with no pickle corn dog in sight, we paid a visit to the Rodeo information booth and then finally the RCS carnival office. As it turns out, the fried pickle dog was not a best-seller and has been taken off the menu.
We settled for a good ol' fashioned foot long corny dog with mustard and bid farewell to our Houston rodeo food adventure. Until next year!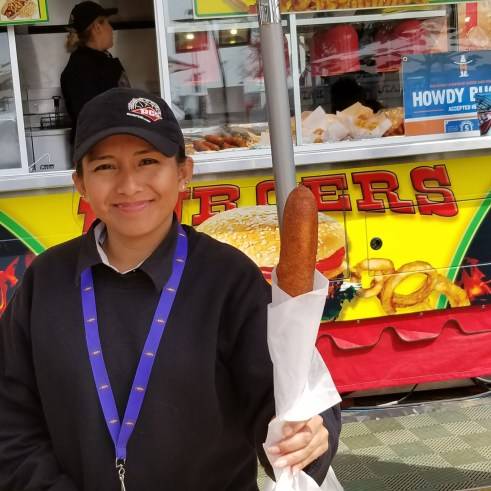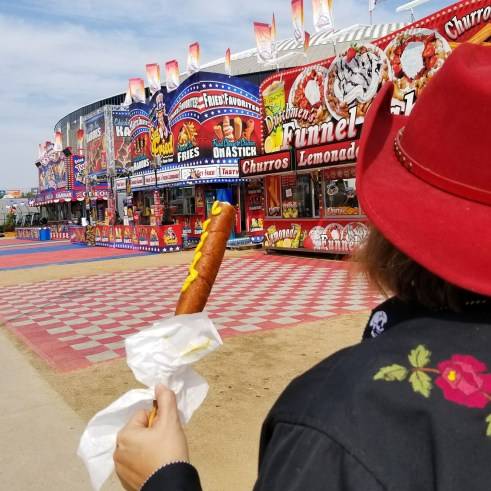 Check out the 2018 Dining Guide for a full list of all dining options and locations at this year's Houston rodeo. And if you are visiting Houston, see our visitor guide on the best Houston highlights you don't want to miss!