Posted by Pinto Ranch on Oct 30th 2018
As Wrapped to Wear designer Lesa Gary stands in her lime green robe, sipping one of many cups of coffee on a fine Texas Hill Country morning, visions of the jewelry she will create today play in her mind from concept to details.
Her mind gets lost in the beads.
And that's why we love Lesa. Have you ever perused the jewelry selections at Pinto Ranch? You may have seen some of her Wrapped to Wear originals. Boho-chic, wrap-style bracelets, scatter wraps, and necklaces are all handmade by Wrapped to Wear.
And now Lesa has created an exclusive line of Birthstone bracelets, called Bohos, that exemplify her favorite themes. This line contrasts elegant design and rustic themes to create iconic pieces like you've never seen before.
And they're all available online at Pinto Ranch!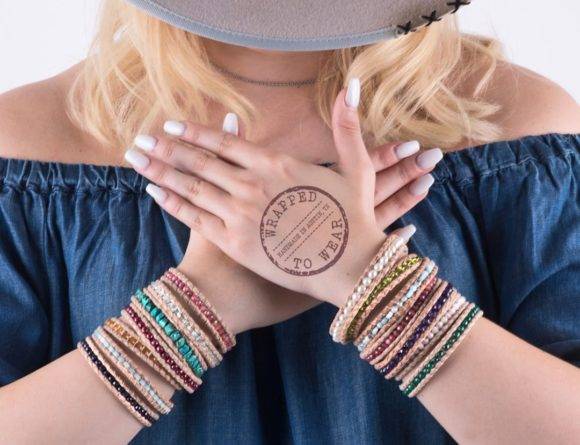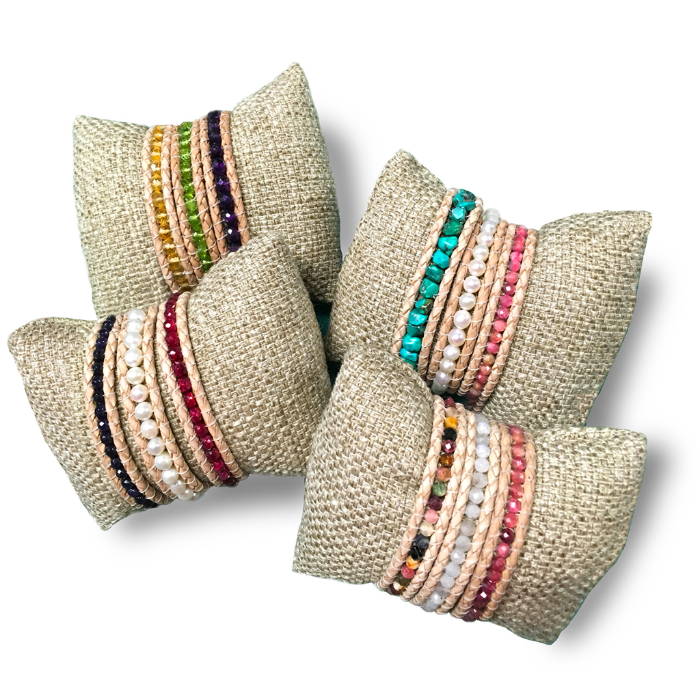 The new Wrapped to Wear Birthstone Collection.
Our Interview with Wrapped to Wear
Let us introduce you to Wrapped to Wear; one of our favorite, most fun, and newest jewelry collections. Did we mention Wrapped to Wear is 100% handmade in Austin, Texas?
Owner, designer, and mastermind Lesa Gary is the main reason this jewelry line is so fun. Full of inspiration and lots of love, Lesa has put together a team of teachers, florists, retirees, and moms that have a gift for creating beauty.
"Each Wrapped to Wear piece is created by a kind heart that takes great pride in the final creation," says Lesa. "My greatest delight is the Wrapped to Wear team."

Wrapped to Wear Designer Q&A with Lesa Gary
PINTO RANCH: You spent most of your career as a technical engineer. How did you make the leap to jewelry designer?
LESA GARY: It really wasn't that big of a leap! I have always loved a good project. Now – in career number two – the difference is that the projects are pretty! I can design, create, and then wear. It was not nearly as much fun to design automated temperature control systems. Pretty wins every time!
PINTO RANCH: Do you listen to music while creating? What is your favorite song?
LESA GARY: Do I listen to music or TV while creating? No way. I love quiet. My favorite is to open the windows and listen to the sounds from the woods. The wind in the leaves, running water, and the birds create my favorite design environment. By the way, my least favorite song is the incessant barking of my two miniature dachshunds, but I digress….

Why does Wrapped to Wear stand out?
PINTO RANCH: What does Wrapped to Wear offer that can't be found anywhere else?
LESA GARY: Wrapped to Wear is a passion born in the Texas Hill Country. Each piece uses genuine distressed leather for grounding and then we pop it with gemstones, precious metals and other natural stone beads sourced both locally and globally. It is my driving desire to design collections that have the flexibility and creativity to allow unique expression. Athletic, Whimsical, Organic, Elegant, Understated or Overstated – I desire to offer my clients pieces that allow them to brand their own personalities and interests.
PINTO RANCH: Do you have a favorite customer story?
LESA GARY: I have many favorite customer memories, but two come to mind. In the first, I designed wraps for all of the bridesmaids in a wedding party. Three years later the bride called and asked me to make wraps as a way to reveal the gender of her new baby. It's so special to evolve with the family.
The second memory that still touches my heart is of a special needs teenage girl that had issues with texture and could not wear jewelry. Working with the family, I designed a bracelet with the right weight, size, and texture so she could wear it. It was a proud moment for everyone when she put it on for the first time and we saw her delight.
Wrapped to Wear has a truly Texan message
PINTO RANCH: If you could put anything on a billboard for everyone in the world to see, what would it be?
LESA GARY: I have several. How about "New Day/New Design!" or "If it ain't broke – let's fix it anyway!" or "Just own it… all that you are and all that you want to be. And let Wrapped to Wear join you on the journey." I know it's shameless and lame but I like it.
PINTO RANCH: We like it, too, Lesa because we know that everything about you is unique, genuine and comes from a place of joy!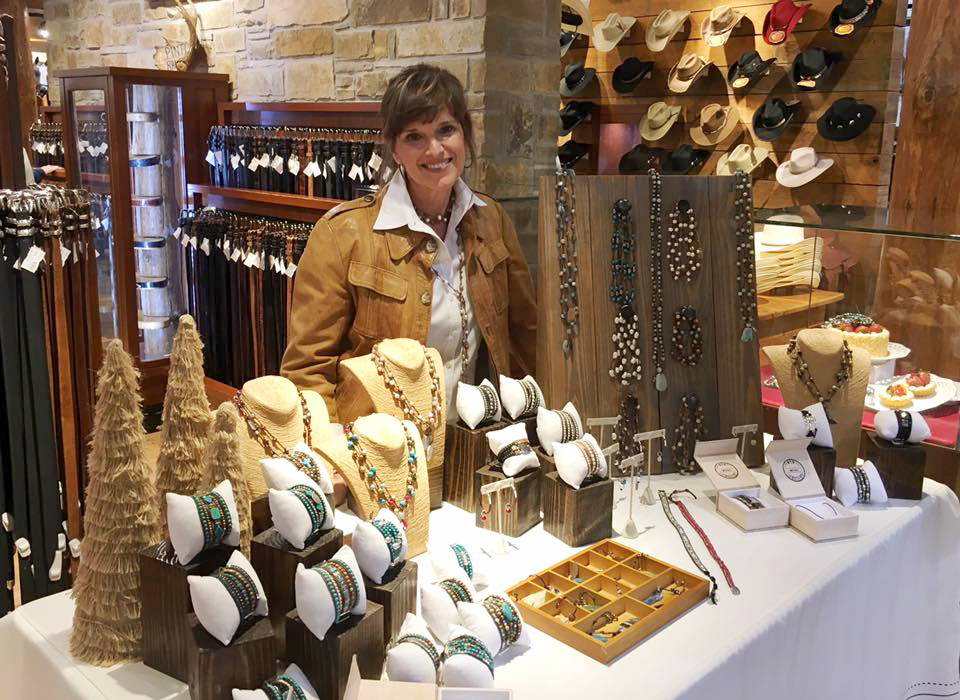 Pinto Ranch proudly presents Wrapped to Wear collections online and in our Houston and Las Vegasstores, with Wrapped to Wear coming to Dallas in a BIG way in September!
Visit our Northpark store on Friday, September 8th from 10am to 6pm to meet Lesa and see her in action. Have her design a custom piece for you as she creates live and in person at the store or shop the many unique pieces she will bring in for this weekend trunkshow.
The great thing about the new Birthstone Collection from Wrapped to Wear is that you can get one for yourself or a special someone or you can get one to stack for each child or each family member.
Or, as Lesa mentioned earlier, for all the bridesmaids or a very special baby reveal. See the chart below to help you identify which birthstone fits your needs. And if you don't see something, let us know.
Lesa loves to create-to-order!
January | February | March | April | May | June | July | August | September | October | November | December