Posted by Pinto Ranch on Oct 31st 2018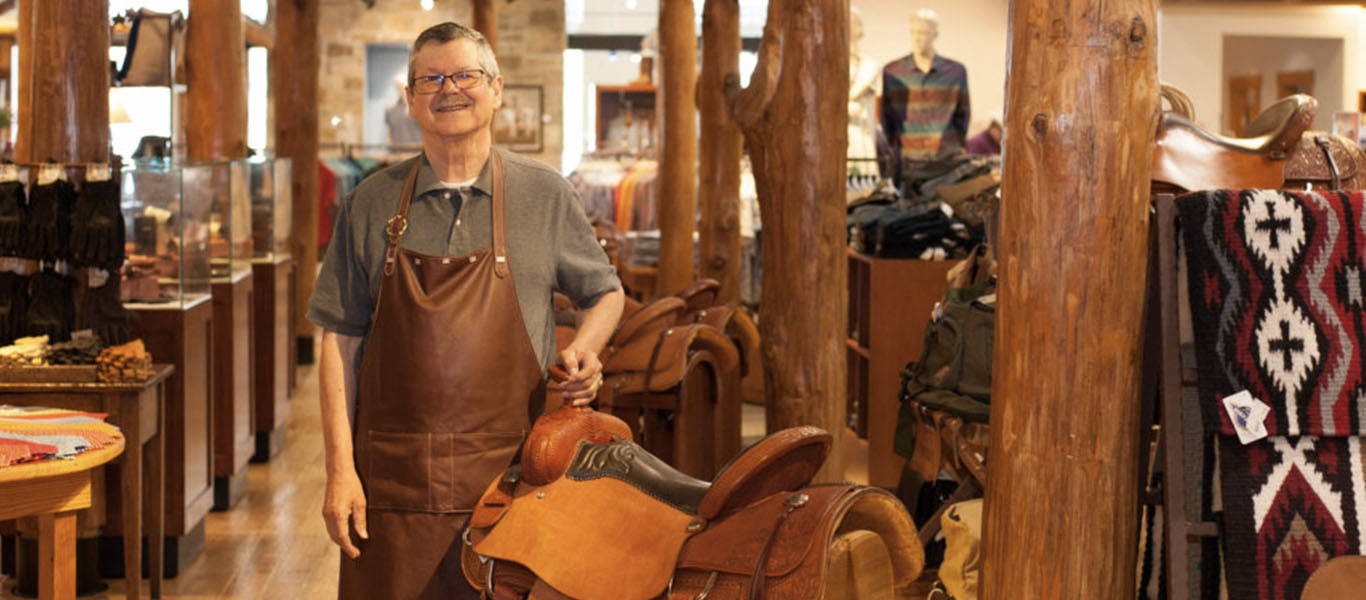 Did you know that the art of saddle-making is still very much alive? We recently visited with Julio Peña, master craftsman, in his Saddle Shop located inside Pinto Ranch's flagship store in Houston, Texas.
Born in Mexico, Julio has perfected saddle making over a 50-year career and his love for the craft shows through in the unbelievable quality and attention to detail seen in every Pinto Ranch saddle. At the age of 13, Julio began learning about saddle making and leather work in a little saddle shop in Monterrey.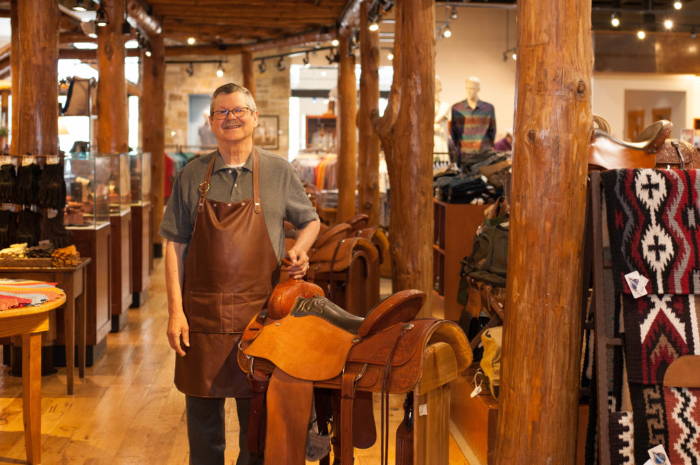 Julio went into the saddle-making business partly out of necessity but also because of his love for the trade. It took him about two years to be able to make an entire saddle by himself.
"My first saddle was awful, it was bad."
Nowadays, Julio can do just about anything in the saddle-making world. He repairs English saddles but only makes western saddles.
"There is a big difference, the English saddle has nothing to do with strength. They are made to fit the horse to jump. A western saddle will endure a lot of stress, so it needs to be stronger."
The goal of western saddle design is comfort and endurance. But don't let the utility fool you, the art of handmade saddle design is truly beautiful, remarkable and takes a long time to master. It can take at least 20 days to carve or hand-tool an entire saddle, or if it's a plain saddle it can take 13-14 days to complete.
Check out the rest of the interview with Pinto Ranch Saddle Maker Julio Peña:
PR: What is your favorite thing about the job?
Julio: Tooling. I love carving. Because I can create my own designs, when they (the customers) let me.
PR: What is your favorite tooling pattern or technique?
Julio: There's some style from Wyoming called Visalia tooling – it's a floral design from the Northwest.
PR: What are your go-to tools? What do you need to have on-hand to make a saddle? How many tools?
Julio: First of all, of all the tools for carving – the most important is the knife, hammer and pliers. To carve basic patterns I need at least 10 pieces (tools)… for other patterns I need up to 50 tools.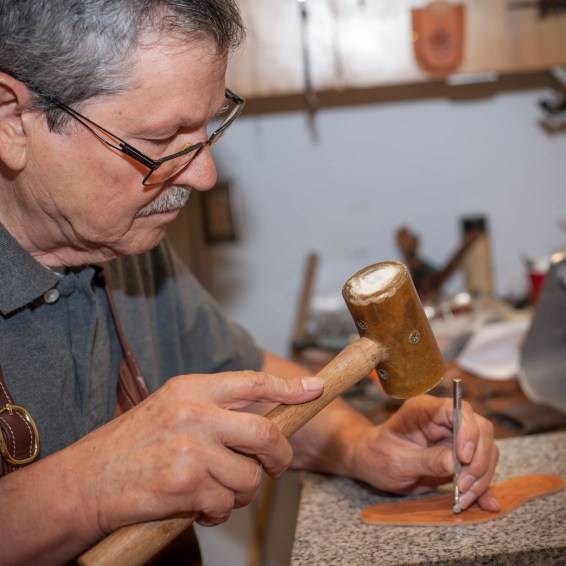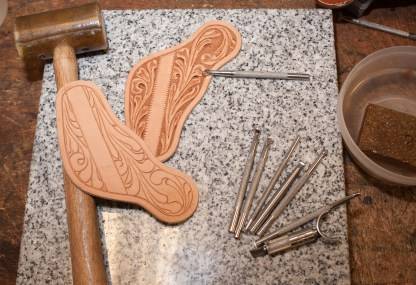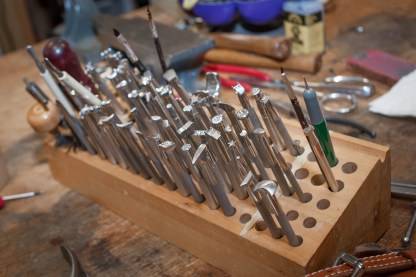 PR: What is a typical day in the Pinto Ranch saddle shop?
Julio: Well, when I come in the morning, I look on my table to see if I need to make repairs of any kind – cutting belts, stitching, cleaning saddles. That is basically what I check in the morning. During the day, it is whatever comes in – broken hearts – I'll fix it.
Side Note: A couple of days before this interview, a Pinto Ranch employee's shoe strap snapped. Desperate for a fix that would get her through the day, she ran to Julio's saddle shop and asked if he could fix it for her. He took one look at the shoe, laughed, and said he would try his best. About 15 minutes later, she walked out, shoe on her foot grinning from ear to ear.
PR: Who is your favorite celeb sighting from the Saddle Shop?
Julio: Arnold Schwarzenegger.
Julio didn't even pause to think about his answer on this one. Answered without missing a beat and glanced at an old picture on the wall from Arnold's earlier visit.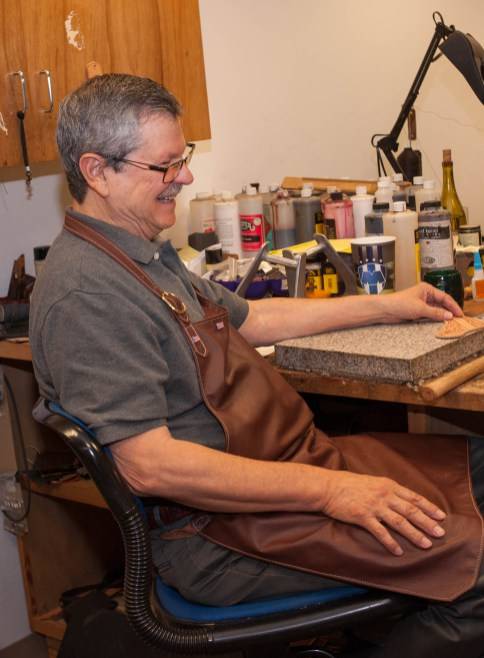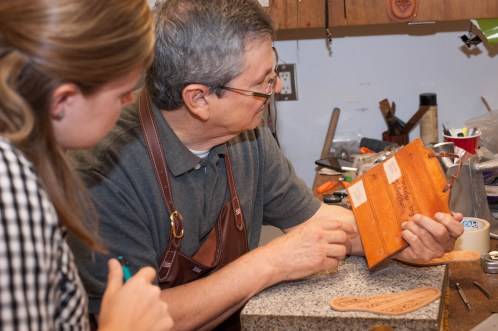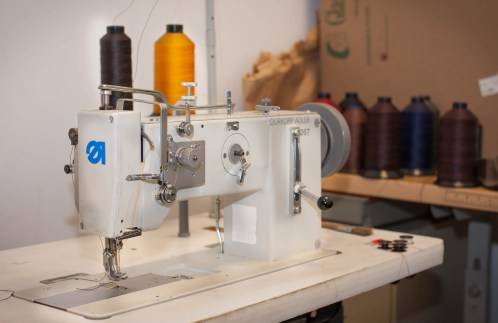 PR: What else would you like to share about your craft?
Julio: I enjoy my job because I never know what is next or what the next job is that I will be asked to do. They (customers and fellow Pinto Ranchers) surprise me with things I've never seen before. Then I have to fix it or make a new version of it. Sometimes I don't even know what it is, maybe it's an antique that I've never seen in my life and they ask to create something similar or to fix it. This is the most interesting part because it is a challenge for me. I never say no to a job and I love a challenge.
PR: Are you training anyone right now?
Julio: No it's not easy to train somebody. It takes a lot of time. I do everything by myself here and it's difficult to teach and do my work at the same time.
If you're a local Houstonian or ever find yourself here, be sure to stop by the Pinto Ranch flagship storelocated in the heart of the city just North of the Galleria. Here you can experience the art of saddle making daily by master craftsman, Julio Peña. Drop in, say hi and shop around!