How to Care for Your Cowboy Boots
Posted by Pinto Ranch on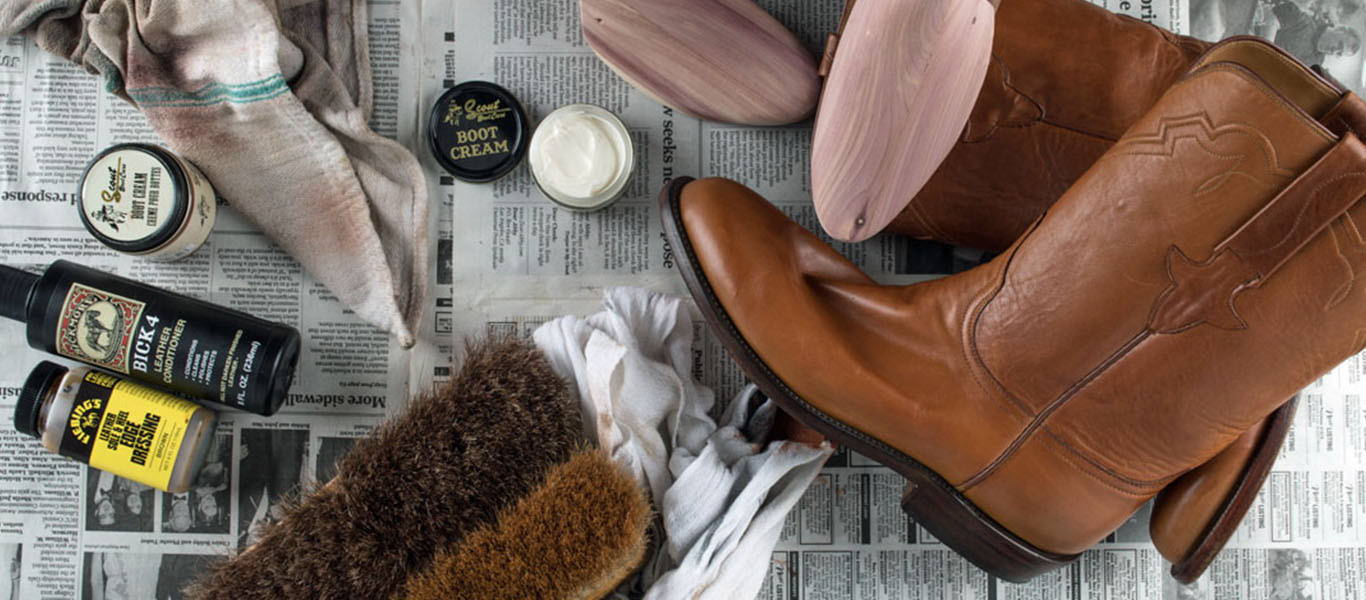 Handmade boots are an investment that are made to last a lifetime. Whether you're a veteran boot wearer or a novice with your first pair, we want to help you keep your investment in good shape with these boot care tips. Here at Pinto Ranch we recommend the following quality boot care products and accessories to get the job done.
---
Clean, Condition & Polish
Smooth leather and especially exotic skins can dry out over time. To keep the genuine leather from cracking it is good to use a leather conditioner periodically. This can be done at home using Bick 4 Leather Conditioner – our recommendation for all non-suede leather goods. If you have a pair of snakeskin or lizard boots on your hands, we'd suggest Scout Reptile Cleaner and Conditioner. After the leather is conditioned, apply leather sole and heel edge dressing to the soles and heels to keep the stain fresh. Edge dressing is available in both Brown and Black. Next apply Scout Boot Cream to polish and shine. The polish is available in neutral and multiple colors to match with your boots. To buff the leather and to reach those tough spots, go over your boots with a handy horsehair boot brush.
---
For a quick tutorial, check out our Boot Care 101 video.
At home cleaning not your cup of tea? No problem, bring your dirty pair into Pinto Ranch and let one of our boot shine experts give your boots the royal treatment.
---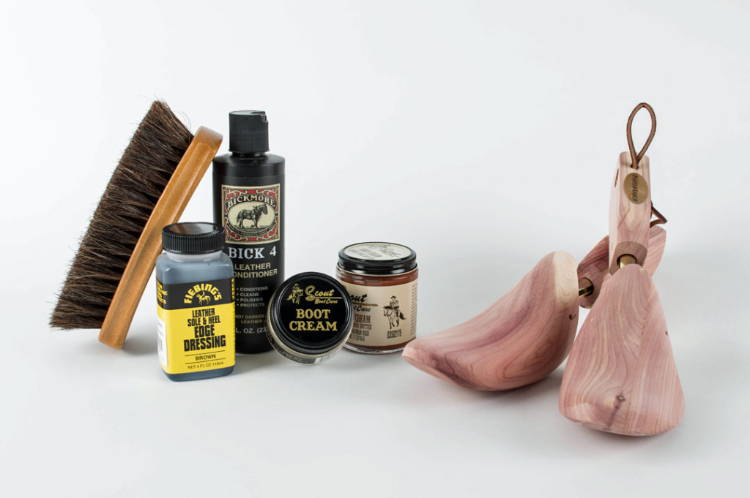 Handmade boots are hardy creatures but it's important to remove moisture with cedar boot trees when they're not on your feet. Aromatic cedar boot trees help the leather keep it's shape and keep from wrinkling after wear. Boot trees are available in sizes S, M, L, and XL for Men and S, M, L for Women.
---
Don't let closet dust get the best of your new or old pair. Proper storage of your boots is important to their longevity. A protective nylon boot bag keeps away the dust, resists water and combats sharp objects. A convenient carrying handle also comes in handy when you take your boots out on the road. Match your boots with a Black Boot Bag, Brown Boot Bag or Tan Boot Bag.
---
We hope you do more than admire your boots on the shelf. For a comfortable wear, Thorlo Socks can't be beat. The cushioned western dress socks are made to be worn with cowboy boots. They feature a padded ball and heel to reduce shock and blisters, and spandex tops to keep the socks in place all day. Available in black and white styles.
Finally, a handmade boot is supposed to fit like a glove. At times, especially after a long day on your feet, they can be difficult to maneuver. With the help of these simple tools, boot wearing is made easy. You'll want a pair of Boot Hooks for sliding them on through the pull straps and a Butcher Block Boot Jack to pop them off your heel.
Boots seen better days? Wear a hole in the sole? Most of the bootmakers here at Pinto Ranch offer a repair and resole program. If you purchased your boots with us, we advise that you a give us a call before letting another cobbler replace the soles and heels. Contact us today to learn more about the resoling programs offered by Lucchese Classics, Stallion, Rios of Mercedes and Black Jack boot companies.
comments powered by

Disqus
---