Posted by Pinto Ranch on Oct 30th 2018

Western wears anywhere because it represents true American style. It's timeless, authentic and down-right cool. So jump on board with us and share your western looks using #WesternWearsAnywhere. Not sold yet? Let us prove our claim.
Western wear first came on the scene in the early 19th century with the rise of westward bound pioneers, Spanish vaqueros, and the American cattle drives. The harsh environment during these times influenced the design, as well as, the materials used to make clothing. Consider cowboy hats or bandana scarves, both designed to protect you from the sun and cold. Or tall leather boots that were originally meant to guard your legs on the horse and withstand the rugged frontier. This iconic style of dress is a portrayal of how people lived and dressed during the development of America. Nowadays, these accessories can add unique style and still offer respite from the elements. Whether you're out on the ranch herding cattle, trekking through the streets of Manhattan, or jamming to your favorite band at a music festival.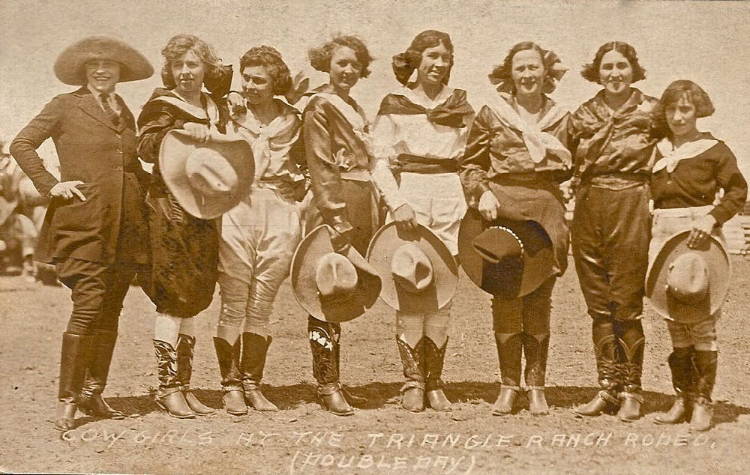 PHOTO: Cowgirls at the Triangle Ranch Rodeo in Cedar City, Utah, circa 1924
Western Wear is Authentic
Here at Pinto, we believe that western wears anywhere because of the high quality of the goods and the authenticity of how they are made. Think top grade leathers, fine furs, hand-embroidered cottons, sterling silver, and precious stones abound. It is with the help of tried-and-true western brands like Lucchese and Stetson who have not only been around for more than a century, but continue to carry on the traditions of hand-craftsmanship while creating contemporary designs.
A good pair of cowboy boots, for one, can be a key element in your closet. The quality found in a handmade boot is unlike any other. The choice leather, attention to detail, and craftsmanship all made in the good old U.S. of A. has become a rare find these days. Handmade boots will stand the test of time with great durability and will also last through any fashion fad. The authentic quality and design allows us to honestly say that western is both chic and practical.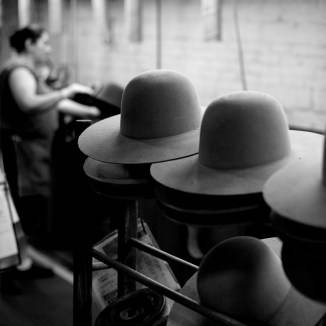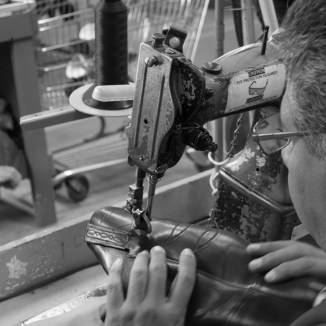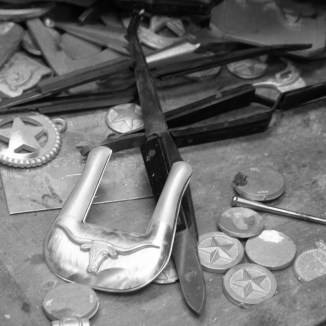 It is because of the rich history and fashion influences that western apparel stays relevant decade after decade. Western is more than a passing trend as it represents a lifestyle – the American lifestyle… making western wear the only fashion that is truly American.
Western also has a cool factor that can't be denied. From the early days on the silver screen with John Wayne and James Dean, to the stages of country and rock-and-roll, western style has been cultivated and popularized. Today couture runways and the celebrity music scene give cred to western chic that garners envy and respect.
Read the fashion magazines or stroll through the shops. You'll be hard-pressed not to see the western influence in plenty. From high fashion houses like Ralph Lauren and Chanel to mainstream designers for big box stores, and everything in between, western style is a big player in American culture and fashion. From head to toe (or from hat to boot), western is classic, timeless and will complement any wardrobe – cowboy or not!
PHOTO: ©SteveThornton for COWGIRL MAGAZINE
We want to know, "how do you do western?" Add a pair of boots or a vintage-inspired snap shirt to your repertoire and we promise that from New York to LA, your style will be the talk of the town.
Share your Pinto Ranch style using #WesternWearsAnywhere for a chance to see your photo in lights on pintoranch.com! Your post will also put you in the running for a $150 Pinto Ranch Gift Card. Terms and conditions apply.
---