Posted by Pinto Ranch on Oct 30th 2018
It doesn't matter on which side of the Mississippi you reside, it is an American tradition to celebrate holidays with good friends, family and good food. July 4th is no different. Whether you're hosting the group or bringing a dish, we have a few surefire, crowd-pleasing July 4th recipes for your weekend.
Chorizo Stuffed Jalapeños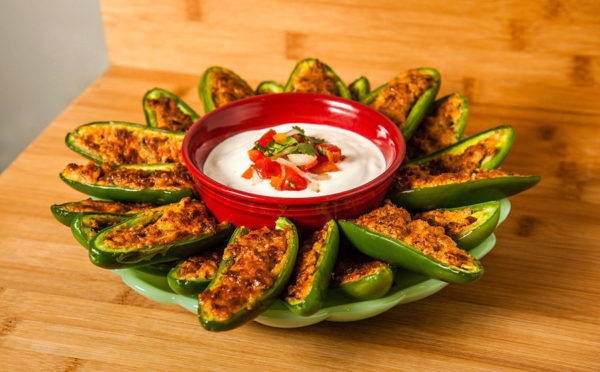 12 medium jalapeño chiles

¼ pound chorizo, cooked and drained of excess fat

8 ounces cream cheese, room temperature

2 ounces goat cheese, room temperature

1 tablespoon chopped cilantro

1 teaspoon dried oregano

1 teaspoon ground cumin

2 cloves garlic, minced

¼ teaspoon cayenne

1 teaspoon lime zest

Salt, to taste
1. Preheat the broiler and line a baking sheet with foil.
2. Take each jalapeño and cut in half, lengthwise. With a knife or small spoon scoop out the seeds and white pith and discard.
TIP: Cut and trim your fresh jalapeños near a small amount of running water. The painful oils that are released when you cut a fresh jalapeño both burn and are hard to wash off! So, wear rubber gloves while cutting and removing the seeds and white pith. That way the oils go to the water faucet and not you!
3. Mix together the cooked chorizo, cream cheese, goat cheese, cilantro, oregano, cumin, garlic, cayenne, and lime zest. Adjust seasonings and add salt to taste. (You can substitute sausage like Jimmy Dean® for the chorizo and grated Parmesan cheese for the goat cheese.)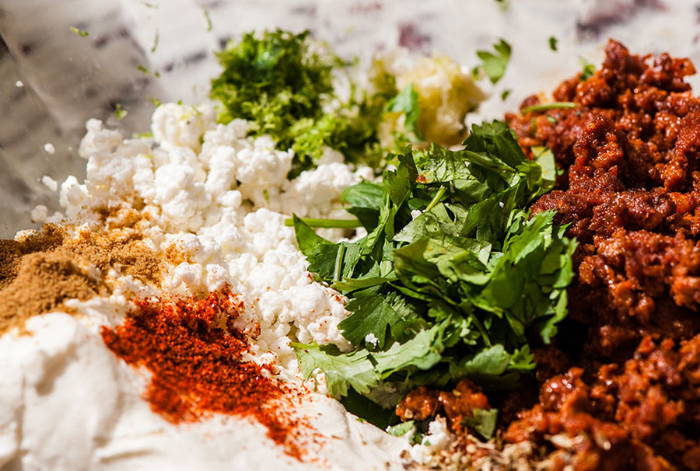 4. Fill each of the jalapeño halves with about 2 teaspoons of the cheese filling. Place stuffed jalapeños on the sheet and place under the broiler for 8 to 10 minutes or until brown and bubbling.
TIP: Serve with cool ranch dressing (another American favorite) and enjoy!
Add a touch of tradition with Naomi's Potato Salad, a Pinto Ranch Houston Pot Luck favorite.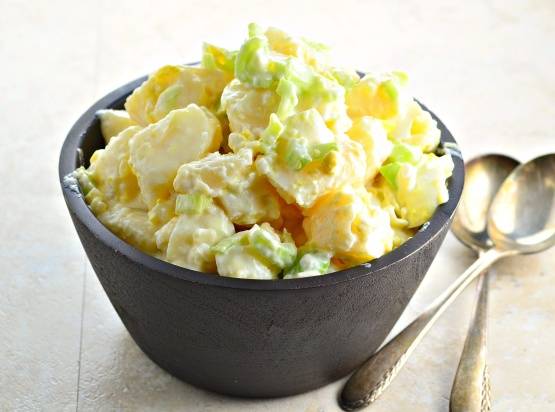 3 to 4 large Russet potatoes or red potatoes

3 to 4 eggs

Green, yellow or red bell pepper

Celery

Pimento

Hellmann's® Mayonnaise

Del Dixi® Sweet Relish

Yellow mustard

Morton® Nature's Seasons® Seasoning Blend
1. First, boil potatoes with eggs until soft.
2. Let cool then peel the potatoes and cut into small chunks.
3. Add chopped bell pepper and celery to the potatoes.
4. Then add chopped boiled eggs and pimento.
5. Mix with mayonnaise and sweet relish.
6. Add yellow mustard to your liking and season with Morton's to taste.
7. Mix all together and enjoy!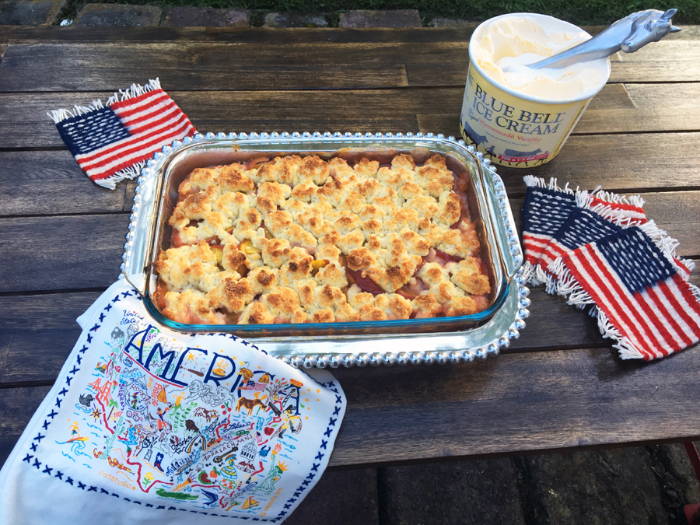 PHOTO: Peach Cobbler, Pinto Ranch
8 cups fresh sliced unpeeled peaches (about 10 peaches)

1/4 cup sugar

2 tablespoons all-purpose flour
2 cups all-purpose flour

1 tablespoon baking powder

2 heaping tablespoons sugar, more for sprinkling

1/4 teaspoon salt

1/2 cup (1 stick) cold butter, cut into pieces

1/2 cup milk

1 egg
1. Preheat oven to 425 degrees F.
2. Place peaches in large bowl and sprinkle with sugar.

3. Add the flour and stir to combine.

4. To make the topping, in a separate bowl, combine the flour, the baking powder, sugar, and salt. Stir around.

5. Add the butter and use pastry blender (or large fork) to cut the butter into the dry ingredients.

6. Whisk together the milk and egg then drizzle it into the flour butter mixture.

7. Stir until the dough just comes together. It should be lumpy and clumpy.

8. Pour the peaches into a 2-quart baking dish (a 9×13 casserole works!).

9. Tear off pinches of dough and dot them all over the top. This is a fun and easy step to have the kiddos to help out!

10. Sprinkle the top with extra sugar.

11. Cover lightly with foil and bake for 30 minutes, then remove the foil and bake for 15 minutes or more, or until lightly browned.

12. Serve warm or at room temperature with a big scoop of your favorite vanilla ice cream!

TIP: Ree's recipe does not call for cinnamon, but we recommend a pinch or two in the dough or sprinkle on top of your vanilla ice cream before serving for extra flavor.

And after the cookout comes the show! Click below for information on where to catch fireworks in our cities.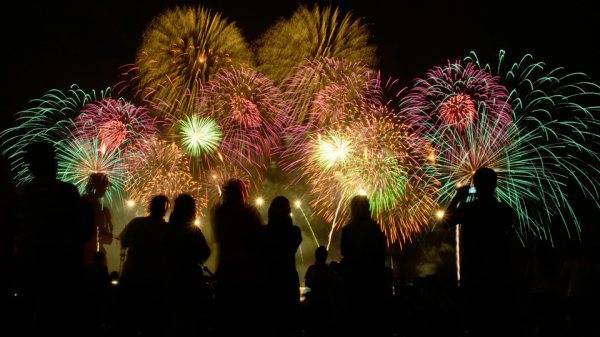 PHOTO: Houston Fireworks, Big Kid Small City