Posted by Pinto Ranch on Aug 27th 2019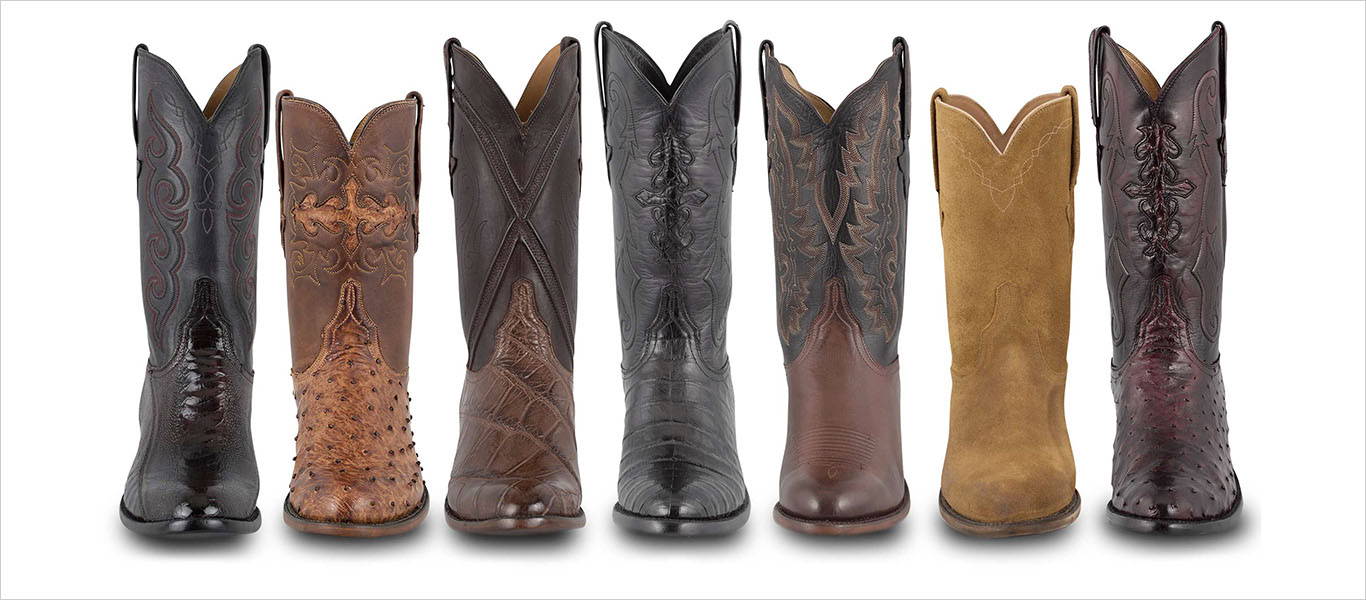 Lucchese Bootmakers, founded in 1883 by Sam Lucchese, may be the most renowned cowboy boot maker in the world — and it all began with the legendary, handmade Lucchese Classics. While Lucchese makes many different cowboy boots, the original handmade Lucchese Classics remain tried and true.

The reason for Lucchese's success is no secret — it's an example of the American Dream being realized. Through hard work and persistence, Italian shoemaker Sam Lucchese made his way to San Antonio, Texas and created a timeless brand of quality, handmade western boots.
Lucchese has made boots for everyone…from Hollywood stars like John Wayne and Arnold Schwarzenegger, to musicians around the world and even Presidents. Lucchese is also the official bootmaker of the Dallas Cowboys Cheerleaders.
We at Pinto Ranch have personally designed several honorary pairs for the likes of Presidents George H. W. Bush and George W. Bush, and Derek Jeter of the New York Yankees.
So why are the Lucchese Classics so sought after? What makes the Lucchese Classic boot so renowned?
What Are Lucchese Classics?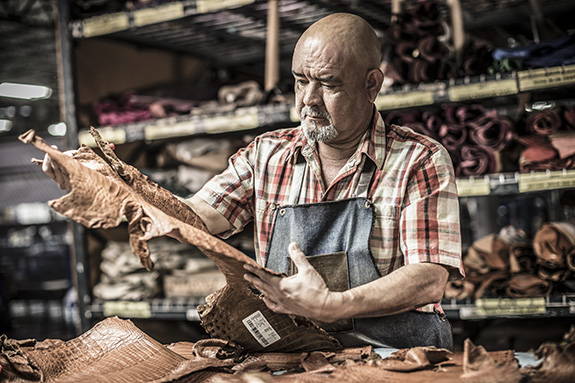 Working with leathers at Lucchese.
Lucchese Classics are a handmade original. The craftsmen at Lucchese have been making boots by hand since 1883, passing down their techniques from master to apprentice, generation after generation. They carry on a proud western tradition of cowboy boot making. It's done the same now as it was in the beginning, and this historic tradition of handcrafting boots is becoming rarer and rarer.
As Lucchese's most exclusive, bespoke collection, the Lucchese Classics are the foundation of western fashion, not only for how they look but because of how they fit. Made by hand at Lucchese's headquarters in El Paso, TX, the Classics feature a twisted-cone last, created by Sam Lucchese, which revolutionized cowboy comfort. Combined with bona fide design and premium skins and leathers, Lucchese Classics represent the best that Lucchese has to offer.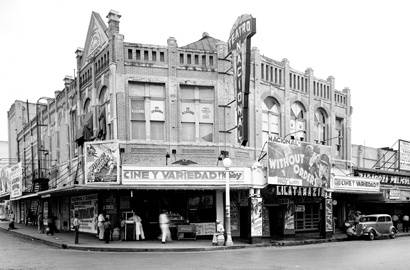 The Teatro Zaragoza, owned by Lucchese
For more than 135 years, Lucchese Classic boots have been the cornerstone of western wear, and have set the example many other bootmakers have followed. It's no wonder Lucchese Classics have been worn by icons of American culture from the oval office to stage and screen.
Features of Lucchese Classics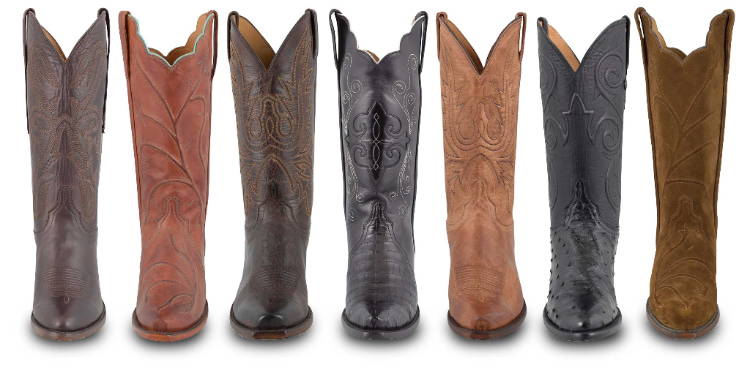 Handmade Lucchese Classics feature the highest quality materials and construction, including:
Soft cream cow linings

Channeled leather insoles

All-leather stacked heels

3/4 welts with lemonwood pegging

Original, exclusive twisted-cone last
Only the master craftsmen at Lucchese build the handmade Lucchese Classics line – some of the finest boots on the planet.
Lucchese Classics at Pinto Ranch
The master craftsmen at Lucchese.
Pinto Ranch only chooses the best handmade boots, and Lucchese Classics were our first choice. Since opening our doors in 2004, Pinto Ranch has been designing and ordering Lucchese boots, stocking our shelves with exclusive designs.
Working with our expert boot team here at Pinto Ranch, we've combined over a decade's worth of experience and customer feedback to refine our collection of handmade Lucchese Classics. Our cowboy boots reflect a commitment to our customers and to quality footwear.
Here are some of our favorite Lucchese Classics: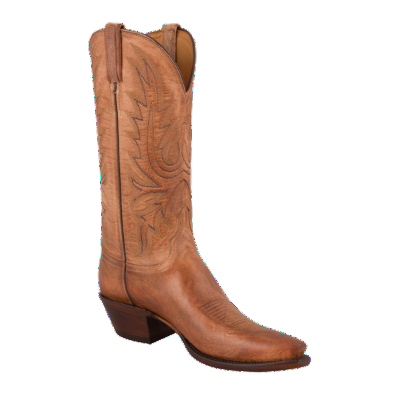 Lucchese Women's Tan Mad Dog Boots
These classic Lucchese boots are exactly what comes to mind when you think of cowboy boots. The distressed mad dog finish gives the boot a rugged cowgirl style, while the western stitching, all-leather sole and heel, and classic toe medallion reflect the handmade quality. The boot is finished with a fashionable snip toe and a cowboy heel.
These are classic, iconic, and can be anything you want them to be.
---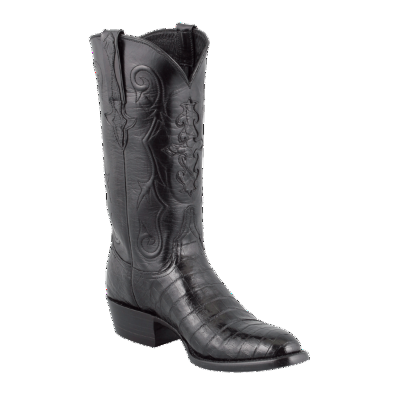 Lucchese Men's Black Ultra Caiman Crocodile Boots
These men's Lucchese boots feature the best cut of belly Caiman crocodile skin the bootmaker has. The shaft is adorned with elegant cording designs and a Bayou Caiman inlay. Kennedy pull straps with Presidential croc overlays provide a sartorial and stately finishing touch.
You can't go wrong with these boots. They're ultra cool.
---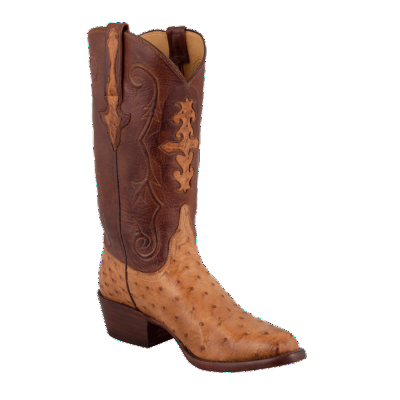 Lucchese Men's Barnwood Full-Quill Ostrich Boots
The Full-Quill Ostrich Lucchese men's boots are a traditional American style. The full-quill ostrich vamp and the dark tan ranch hand calf leather shaft combine for a complementary, contrasting brown tone. The boot also has an ostrich inlay on the front of the shaft, a traditional round toe and a walking heel for comfort.
These are the most comfortable boots you'll ever wear.
---
Where to Buy Lucchese Classics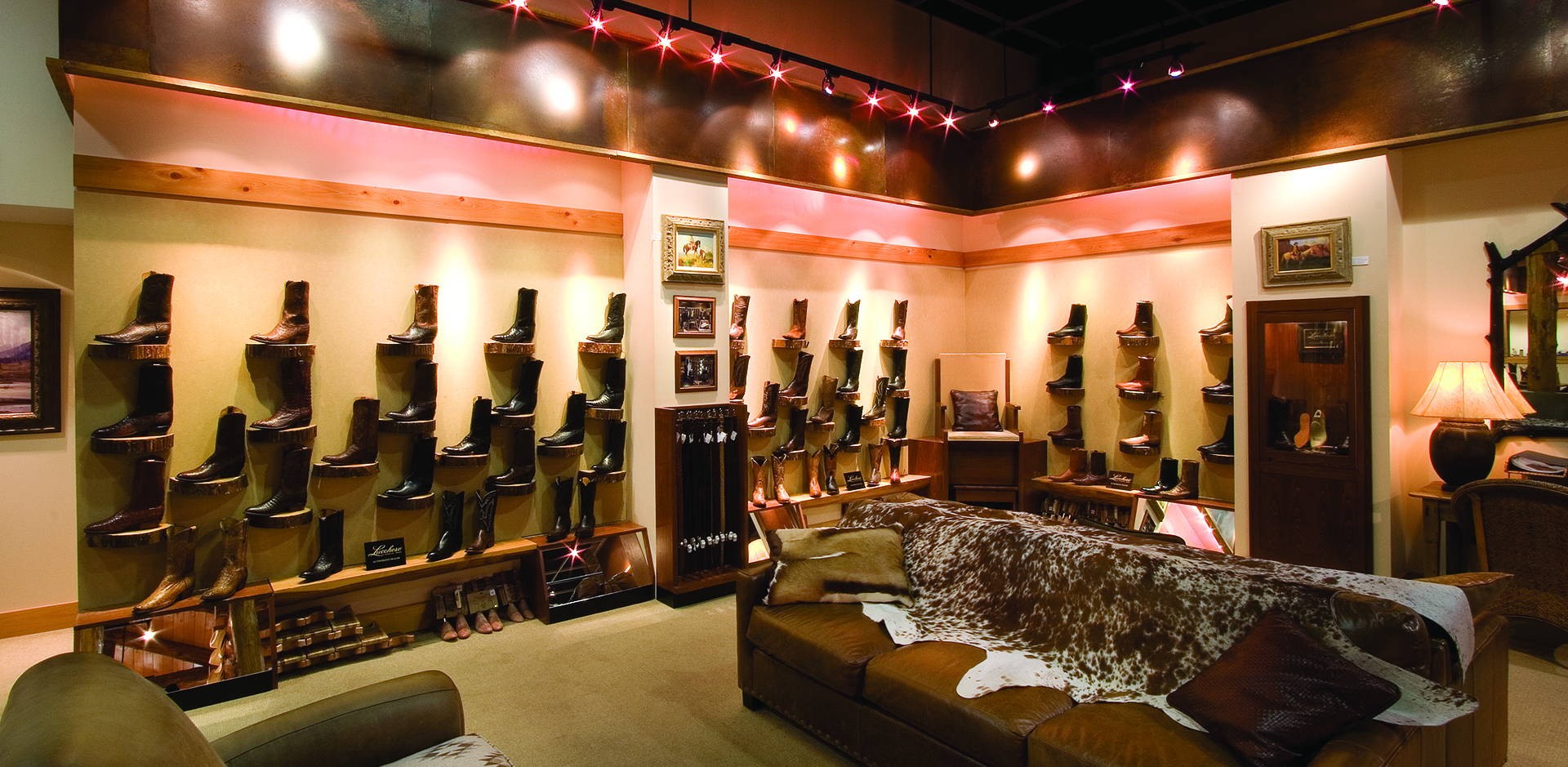 One side of the Boot Wall at Pinto Ranch
The best place to buy handmade Lucchese Classic Boots is at Pinto Ranch, of course! We've been working with our customers and Lucchese for more than a decade to spec and build the best Lucchese Classics there are.
You can't find our curated collection of handmade Lucchese Classics anywhere else. In fact, we have over $1 Million in Lucchese Classics in our stores, ready to go.
We wouldn't settle for anything less, and neither should you.
P.S.
If you do buy a pair of Pinto Ranch's exclusive Lucchese Classics, you'll want to know how to take care of them. We've got you covered.