Posted by Pinto Ranch on Oct 31st 2018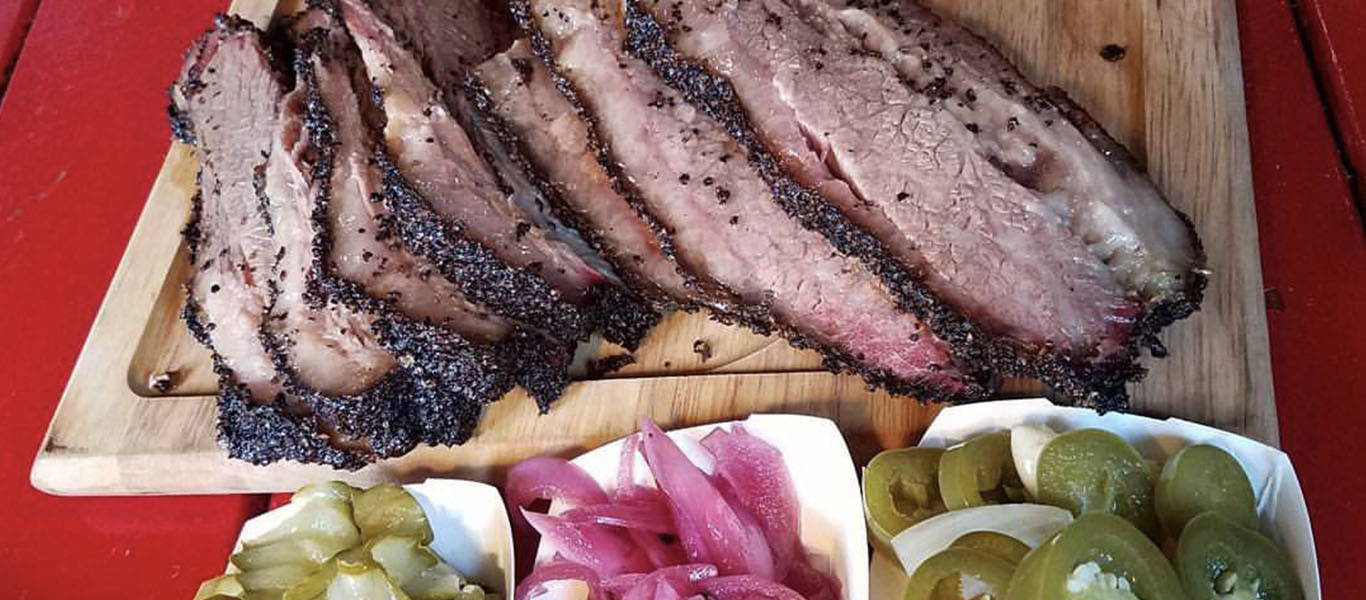 Russell Roegels is the kind of person you don't easily forget. He's an enthusiastic, talkative guy whose love for BBQ is palpable. We met with Russell on a rainy Wednesday morning at Roegels Barbecue Co., over on South Voss Road in Houston, Texas. He greeted us wearing a white and maroon Texas A&M "Meat Science" hat and a firm handshake. Two questions immediately came to mind as we introduced ourselves to him: How did he get that awesome hat and how in the world is his last name pronounced? Luckily, both questions were answered.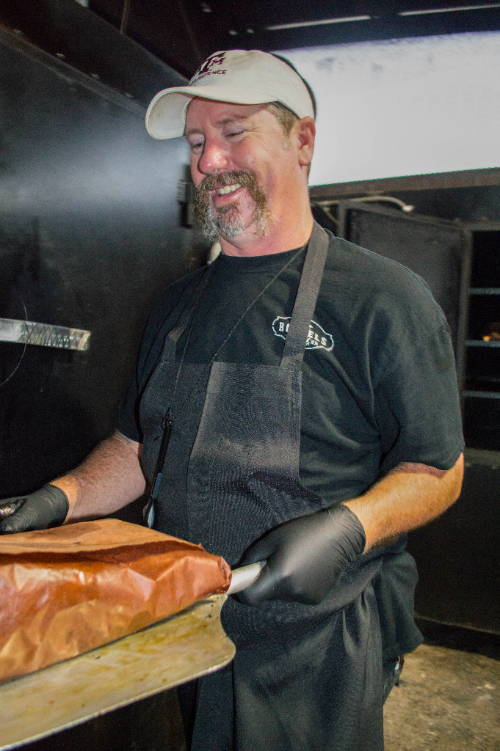 Russell has not always had this love for BBQ. Sure, he liked it just as much as the next Texan but it wasn't his passion. "I wasn't even supposed to do this!" exclaimed Russell when asked about his motivation in becoming a pitmaster. "I was going to college to be a PE teacher. When I first got into the business, I did it for the wrong reasons. The love of BBQ wasn't there, not like how I have it now. I always liked it, but never loved it until about three and a half years ago."
What did it take for Russell to discover his love for BBQ? Well, for one it was meeting other BBQ aficionados (among them some guys from the Texas A&M Meat Science department – which is where he got his hat) at the Houston Barbecue Festival that helped Russell realize the BBQ possibilities. He learned about the many ways to experiment and change recipes which awakened his passion for what he was doing. It wasn't long after that Russell and his wife, Misty, decided to leave the Bakers Ribs franchise he had bought into over 12 years ago, and start on his own BBQ journey.
Naming their new endeavor, however, wasn't as easy a decision. Russell and Misty couldn't decide between "The Pig" (Houstonians will remember the large Bakers Ribs pig's head that used to be outside of the restaurant) or if they should put their hard-to-pronounce last name on it. After advice from Texas Monthly's Barbecue Editor, Daniel Vaughn, they finally settled on Roegels Barbecue Co., and on December 11, 2014 at about 11:30 AM, he changed his sign out in the middle of lunch from Bakers Ribs to Roegels.
"I don't care what you call it, just come in the door!"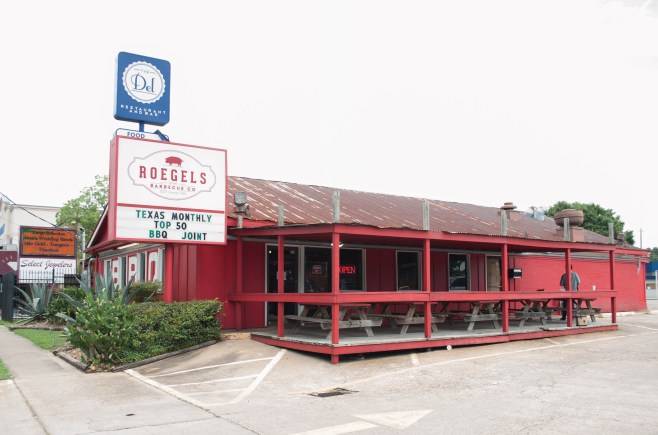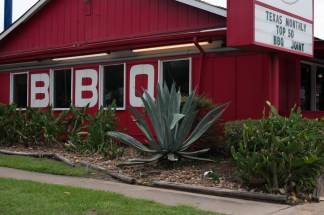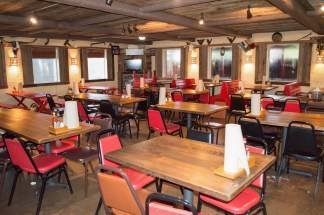 Russell has spent over two decades in the BBQ world. If there is one thing he's learned it's that everybody is creating new techniques and just one way to make mouth-watering BBQ no longer exists. "You're like, wow man, this isn't old school BBQ anymore!" says Russell with a slight chuckle. Things are always changing, and to keep up with this BBQ renaissance experimenting is a must. "We pick what works for us. I'm not a third or fourth generation pit guy who has all these traditions and family recipes passed down. We're building it every day, doing it as we go. For example, we've changed rib rubs four times before settling on this salt and pepper blend we're using now."
Despite all the new methods to do BBQ, there are a few core things that remain the same. For instance, Russell firmly believes that there are three things you need to make great BBQ every single time. The first is to start with a quality piece of meat. Second, maintain a good fire to avoid over smoking the meat. And lastly but most importantly, patience. "The briskets we put on at 3 pm today will be served tomorrow at lunch. They cook for about 15-16 hours," says Russell. Even after he pulls the brisket off the pit, he lets it sit for a couple of hours at least. "You want to let it to cool down and let the meat rest into all the juices." The whole process takes about 21 hours! Talk about patience.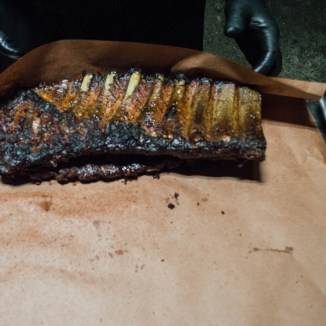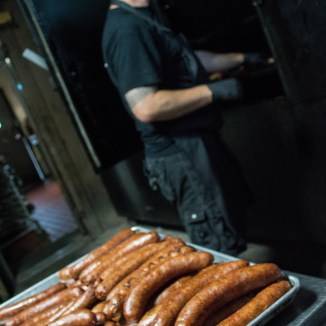 Of course, making the sides doesn't take nearly as long to cook, but Russell stays away from those as much as he can. "I don't eat sides. I don't eat vegetables. My wife [Misty] takes care of all that." When asked about his favorite side Russell responds, "I eat the mac 'n cheese and that's it. I love our coleslaw dressing but I don't like cabbage. Cabbage isn't for me."
That Wednesday morning, one particular menu item caught our eye, the 'Meat Sweats' platter, which is more up Russell's alley. It's a group meal that you definitely can't eat by yourself. You'll need at least 5 people (or in our case, we had 6 and still couldn't finish it!). The platter comes with sliced brisket, sausage, boudin, pulled pork and more – around 5 to 5 1/2 pounds of food!
"You will sweat, I can guarantee that."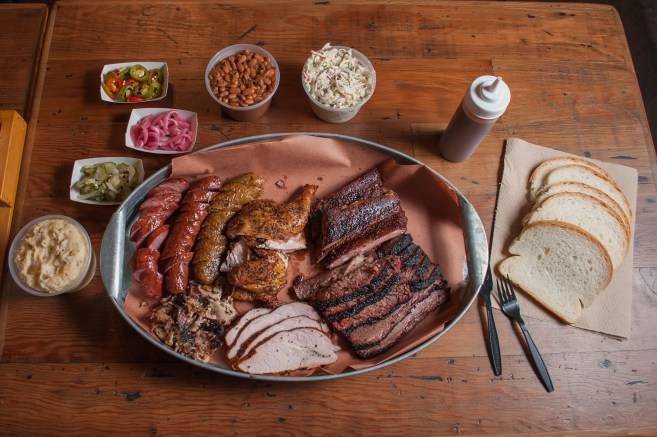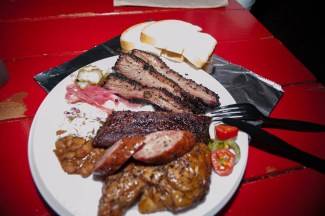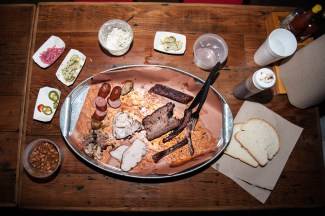 If you ever find yourself craving delicious BBQ, we highly recommend stopping by Roegels Barbecue Co. located in Houston, Texas. If you're lucky enough to visit on Thursday, you'll get to try their smoked pastrami. For dessert, indulge in their deliriously good bourbon banana pudding. With recognition such as being named in the top 50 BBQ joints in all of Texas by Texas Monthly, Roegels Barbecue Co. should be on everybody's bucket list.
Oh, as for pronouncing Russell's last name… it's just like 'bagel' but with an 'R'!