Posted by Pinto Ranch on Aug 27th 2019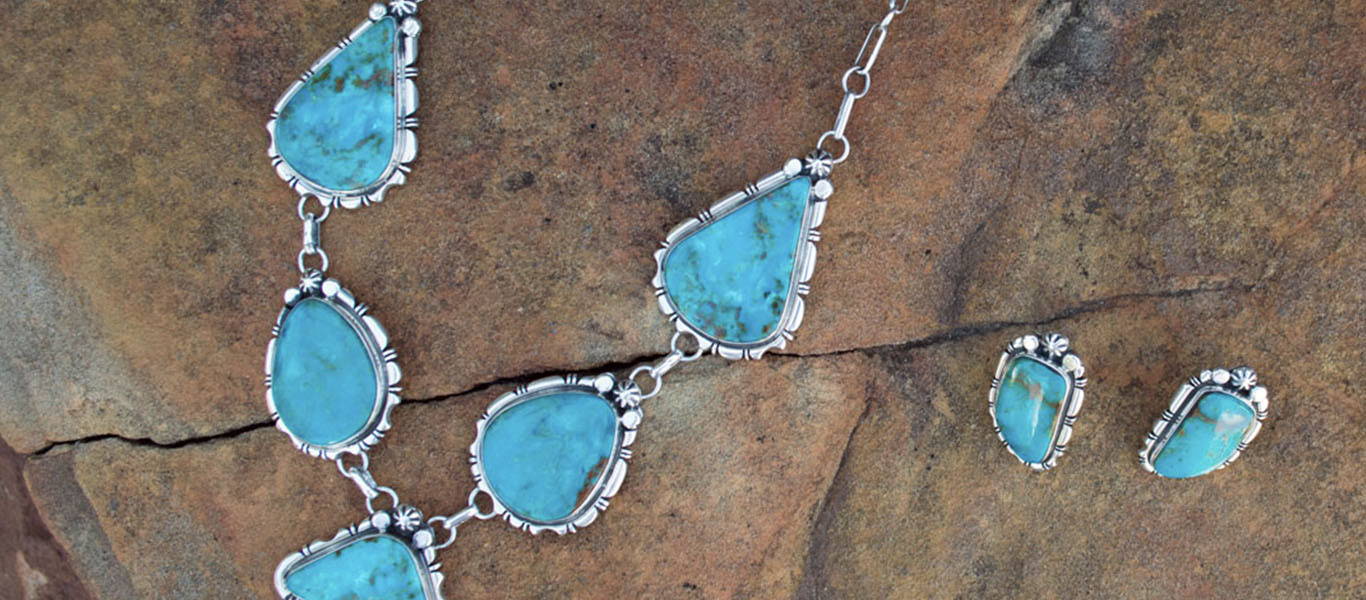 For us western wearers, turquoise is considered a wardrobe staple. Be it in jewelry or apparel form, the blue-green hue goes with just about anything. Add a pop of color to a drab outfit with a necklace or earrings or go full-on with a turquoise suede duster. In the western realm, your turquoise options are endless.
Today the turquoise trend can be seen in everything from jewelry to home decor to nail polish. How did this color movement become so popular? The inspiration behind the trend comes from the beauty of the natural stone.
Turquoise has been mined since 3,200 B.C. – yep, that's right, Before Christ! From the Egyptian Pharaohs to Native American tribes, turquoise is among one of the oldest and most celebrated gemstones. Long before the stone was used as a fashion statement, the Navajo would carry turquoise to foster luck and safety and then later created turquoise jewelry to display wealth and power.
Today not all turquoise is created equal. Like most all-natural materials, man has altered the material to meet our needs and in the process created lesser more cost-effective versions. What is the difference and how can you spot the real deal?
Natural Genuine Turquoise
Talk about museum-grade gemstones that are stable enough to be made into jewelry without any form of treatment or stabilization. This quality has a saturation of color that is top grade and a rare find in today's market making these natural stones very expensive. $$$$
Stabilized Genuine Turquoise
While still a natural stone, this turquoise must be stabilized. Alone the stone is too soft to sustain being shaped or polished and worn as jewelry. The method used to stabilize includes filling the porous stones with a clear epoxy, acrylic or wax to make them harder and more durable. $$$
Color Enhanced Genuine Turquoise
These are stabilized stones that go through one more step – more color! This technique is used to obtain a color so vibrant that it does not appear in nature, like a super saturated blue-green or that beautiful lime or purple color. If the uniform deep blue color, degree of saturation, or lack of variation seems too good for the price, you can guess that the stone may be enhanced. $$$
Artificial or Imitation Turquoise
This occurs when other natural stones like howlite and magnesite are dyed to resemble turquoise. These stones will be uniform in color saturation and hue. $$
This is the bottom of the barrel kind of turquoise (if you can even call it that). Basically, plastic or resin dyed to look like turquoise. It will be smooth to the touch and not cool like a genuine stone. Synthetic "stones" will also most likely be uniform in color saturation and hue… looking way too good for the listed price. $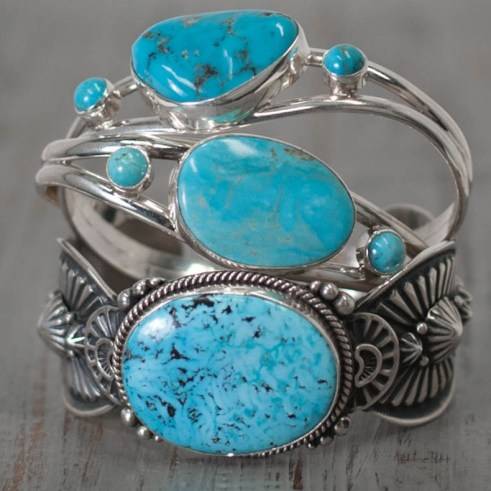 Where does natural turquoise come from? There are over 30 turquoise mines in the Southwestern United States (not including those in China, Mexico and the Middle East). Each mine produces stones with different color attributes and defining characters. Some mines have a higher copper content in the mother rock resulting in the vivid blue color. Other mines have a higher iron content that creates the soft green tones. Most stones will also show faint or heavy matrix or veining patterns that can range from honey brown to black. To get an idea on the differences, here is a quick outline of five of the more well-known Southwest mines.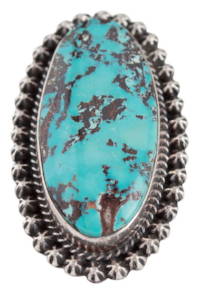 These stones are often two-toned with deep green to light blue color in the same formation with a heavy matrix from dark brown to gold. Royston turquoise is considered very collectible.
Dry Creek | Battle Mountain, NV
Here there is little copper or iron in the ground, so the stones are very pale blue. Some Dry Creek stones are even white, with no blue or green color. These are dubbed Sacred Buffalo Stone or White Buffalo Stone after the very rare and sacred white buffalo.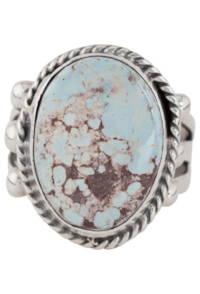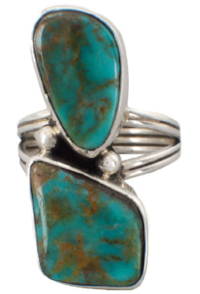 Pilot Mountain | Esmeralda County, NV
In this mine you'll find deep blue and green stones with dark brown, reddish or black matrix. Pilot Mountain stones are also very collectible as one stone can show color graduations from light blue to dark green. This turquoise is very hard and takes a high polish.
Kingman | Mohave County, AZ
Many consider Kingman turquoise, in its bright blue color with white and black matrix, to be the best turquoise in North America. Vintage, authentic natural Kingman turquoise is extremely rare. Kingman is the last large commercially producing mine in the States. All other mines are small family operations that only produce occasionally.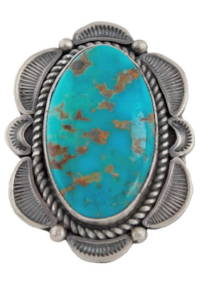 Sleeping Beauty | Globe in Gila County, AZ
Because of the uniform blue turquoise color, Sleeping Beauty is one of the more well-known mines. The stones are often clear but sometimes have a white matrix that is dyed black.
Here at Pinto Ranch we work with many designers and collectors to bring beautiful genuine turquoise jewelry to our stores. Each piece is one-of-a-kind and as you now know all natural stones vary in color and shape. Browse our curated western jewelry and bolo tie collection to discover your new favorite turquoise gem.
Shop Our Turquoise Jewelry