Posted by Pinto Ranch on Nov 5th 2018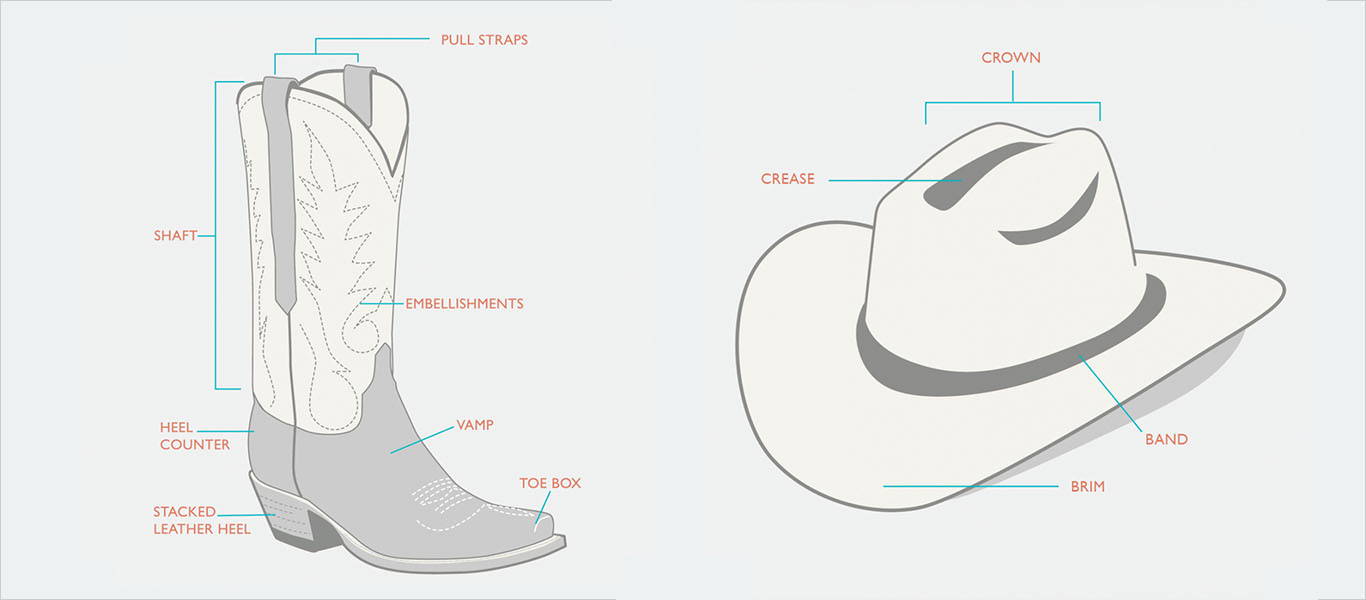 Visit any western outpost and you are sure to discover many different styles and choices in buckles, boots, hats, and more. With those choices comes a lot of western fashion jargon that can be downright confusing to any shopper. After doing a bit of recon and listening to our dear customers, we've decided to put together a quick Western Fashion Glossary. The goal is to define some of the more perplexing terms and to provide insight on commonly asked questions like, "What is the difference between a roper boot and a cowboy boot?" or "What do the X's mean on cowboy hats?"
Bolo Tie /ˈbōlō/ /tī/: A bolo tie is a western neck tie made of a braided leather cord with metal or tassel tips and an engraved silver or precious stone slide. In the old west the bolo tie (or "bolo") was mostly worn by men for formal occasions. Nowadays both men and women sport bolos as a complementary statement piece to their western outfit. SHOP BOLO TIES

Concho /ˈkɒntʃəʊ)/: For the love of western, you can't have a western wardrobe without conchos. A concho is a round or oval piece made from plain or engraved silver used to decorate everything from saddles, clothing and jewelry. The most popular use today is a concho belt that features multiple conchos set on a leather strap in silver or with precious stones.
Squash Blossom /skwäSH/ /ˈbläsəm/: This necklace or accessory is made with an ancient Navajo jewelry design known as a 'Naja'. In the early days, the squash blossom was used as a symbol and often found on horse headstalls and horse bridles. Today the Native American design is most commonly seen in statement necklaces with turquoise or coral set in silver.
Buckle Set /ˈbək(ə)l/ /set/: A buckle set is made up of a metal buckle, keepers and a tip to be worn on a belt strap. You can find buckle sets sold as a three or four piece sets. The set can be a simple dress buckle or feature intricate western engraving and stone inlays. Widths range from 3/4″ to 1″ to 1 1/2″ and more.

Trophy Buckle /ˈtrōfē/ /ˈbək(ə)l/: Trophy buckles are large one-piece metal buckles engraved with iconic details like a longhorn, star or the wearer's initials. These statement buckles got their name because they were originally made for specific events to be awarded to a winner or to someone who had earned it. Today trophy buckles are available in all shapes and sizes in sterling silver, gold and with precious stones.
Wait, you're telling me the belt doesn't come with the buckle? Not always, and especially in the business of handcrafted, sterling silver buckles. With a buckle this nice, the customer has their choice of strap… because as the story goes, you need to match your boots!
Back to the question at hand… the answer is simple! If you have a 1″ trophy buckle or buckle set, you need a 1″ belt strap or a belt strap tapered to 1″. The end of the strap needs to be the same width as the buckle or buckle set.
Vamp /væmp/: The vamp or instep is where your foot sits in the boot. This part of a boot should fit like a glove and is usually decorated with a stitched toe bug, or is made of an exotic skin in finer boot styles.
Shaft /ʃæft/: The shaft (or tops) of the boot can be short or tall. A roper boot shaft is usually 10″ tall, a cowboy boot is typically 12″ tall, and a fashion boot can go all the way up to 18″ or so in height. A traditional boot shaft features western stitching and/or cord patterns. You'll also find boot shafts with colorful leather inlays in intricate or customized patterns… proving why some folks prefer to wear their jeans inside their boots!
Pull Straps /pʊl/ /stræp/: Pull straps offer a little help to get the boots on and add another opportunity for unique style. The straps are typically made of leather and are sewn to the inside or the outside of the top of the shaft on either side. You'll also find pulls with exotic skin overlays, colorful inlays or fancy stitching.
Heel Foxing /hiːl/ /fɑːks/: Heel foxing is a decorative leather overly on the heel made with exotic or tooled leather and other designs.
Wing Tip /wɪŋ/ /tɪp/: You may have noticed that every part of the boot is another opportunity to add details. A wing tip is a decorative leather overly around the toe on the vamp that, like heel foxing, is usually made with exotic or tooled leather.
Toe Box /toʊ/ /bɑːks/: The toe box surrounds your toes under the leather inside the boot. A toe box can be made of carved leather or plastic, depending on the bootmaker, and creates the shape of the toe – round, snip or square, for example.
Last /læst/: The mechanical form or mold in the shape of a human foot that used to manufacture shoes and boots. Each bootmaker has a unique last design, and that is why all boots are not created equal.
TIP: Cowboy vs. Roper Boots
It is all about the last!
A roper boot is built on a shoe last and fits similar to a dress shoe. With a round toe and a comfortable 1″ heel, a roper is a great style for someone who has not worn boots before or for someone with wide or flat feet. A cowboy boot is built on a, well, cowboy boot last, and has a higher shaft, higher heel and a higher arch in the sole. You'll walk a little taller in a true pair of cowboy boots, no doubt.
Rhinestones and Crystals /ˈrīnˌstōn/ /and/ /ˈkristl/: There's nothing like a Rhinestone cowgirl! Popularized by country music artists and rodeo queens, rhinestones and crystals are mostly used to dress up an otherwise casual style or to "westernize" an outfit. The most common uses of these little sparklers include, Swarovksi crystal embellished boots, rhinestone clad belts and bedazzled jean pockets.

Embroidery /əmˈbroid(ə)rē/: The art of stitched threads to add unique style and crafted design to apparel or leather goods. This technique from the Old West has become an ongoing trend in western wear. Embroidery can be hand-stitched as in some apparel available at Pinto Ranch or it can be stitched by machine as in most boots. From head to toe, you'll find embroidery on tops, jeans, boots, and accessories.
Fringe /frinj/: A look that was originally created by Native American tribes, fringe is now a staple in many western wardrobes and on high fashion runways. Long or short, fringe creates movement and is found on everything from tops and jackets to skirts and boots.

Whip Stitch /ˈ(h)wipˌstiCH/: A whip stitch is an overcast stitch using thread or sometimes leather lacing. This sewing method is commonly found on western apparel using contrast thread to highlight western details like the pockets or yoke.
Crown /kraʊn/: The crown is the top portion of the hat that sits on your head. Hat crowns come in different heights and can be open (round with no shape) or creased. A typical crown is 6″ tall.
Brim /brɪm/: The overhang edge that runs along the entire crown of the hat is called the brim. The brim can be wide or short and flat or shaped. Shaping can be made to mimic a famous hat style or to flatter your face. A typical brim is 4″.
Crease /kriːs/: Cowboy hats come in a variety of styles that are typically named for the type of crease that shapes the crown. A Cattleman crease is the most common and iconic, but you'll also find Pinch Front (or teardrop), Gambler (or round) and other creases. Hats will commonly come creased or you can have it steamed and changed by the hat experts at Pinto Ranch.
Band /bænd/: The hat band is the decorative piece that wraps around the base of the crown. Hat bands can be as fancy or as plain as you like. A more formal felt hat has a matching hat band or ribbon with a buckle set or pin. Others sport leather bands with conchos and embellishments or genuine stones. Hat bands are typically removable. SHOP HAT BANDS
The X's on felt cowboy hats refer to the quality of the material. The higher the X, the better the quality (and also the more expensive). The X is determined by the percentage of furs, typically beaver or mink, used to make the hat. This may sound crazy, but you can truly feel the difference in a 3X hat versus a fancy 1000X style. With reference to straw hats, the tighter the weave and narrower the straw reed used to make the hat, the better the quality and thus higher the X count.

Flap Snap Pockets /flap/ /snap/ /ˈpäkət/: A flap snap pocket is a shirt pock that has a flap with a snap. Found on classic western snap shirts, the two front chest pockets come to a point with a snap closure.
Scalloped Pockets /ˈskæləp/ /ˈpäkət/: A scalloped pocket is an iconic western design detail. Take a regular, straight-across flap pocket on a sport coat or slacks and make it scalloped (or curved to a soft point), then you have yourself a western sport coat or western slacks ala Pinto Ranch.

Smile Pockets /smīl/ /ˈpäkət/: Flashback to the days of Gene Autry and Roy Rogers. Smile pockets are a retro look that is unique to western styling. The non-flap, open chest pockets are curved, like a smile, with a stitched or bounded border and arrows on the ends.
Sawtooth Pockets /ˈsôto͞oTH/ /ˈpäkət/: Another one of those terms that is just like it sounds. A sawtooth pocket is a shirt pocket flap with two points shaped like the teeth of a saw. The points each have their own snap closure.
Western Yoke /ˈwestərn/ /yōk/: A yoke is a shaped pattern piece that forms part of a garment. For our purposes we're talking about the upper piece around the chest and shoulders that can be found on the front or back the garment. Contemporary or mainstream shirt styles typically have a straight yoke across the back and nothing on the front. Western styles have a yoke that comes to a point, hence a western yoke.
Deep Western Yoke /dēp/ /ˈwestərn/ /yōk/: A western yoke with a deep point. This style is a little more dramatic than your typical western yoke. Mostly used for tuxedo shirts and dressy events.

Fancy Western Yoke /ˈfansē/ /ˈwestərn/ /yōk/: A western yoke with more curvature and design than one point. You will see this on many vintage style western shirts.
Still have questions a-burnin'? Our western fashion experts are here for you. Contact us or visit one of our locations for personal styling. While you're at it, share your western style with us on Instagram with #WesternWearsAnywhere. We'd love to share it!