A Bride's Guide to a Chic Western Wedding
Posted by Pinto Ranch on

---
Planning a wedding takes lots of time, effort, and, let's be honest, guts. However, it can also be a great experience and opportunity for both the bride and the groom to express their personalities. If you and your partner have a little country flare, here is a western wedding guide for you. Western doesn't mean that you have to have a hoedown. You can have a classy, graceful wedding with small western details to show off your style. The guide includes what to look for in every aspect of planning a wedding, including invitations, flowers, attire, venue, and more.
---
Have your wedding party reflect your western theme, with some amazing attire ideas for the bride, groom, bridesmaids, and groomsmen.
This is what it's all about. The bride! She's the most important part of a wedding.
The bride should go with a dress that makes her feel comfortable and gorgeous. Dresses with a more romantic and vintage feel are great for western weddings, and you can never go wrong with ivory and lace.
The bride's look doesn't just include the dress, but also the perfect pair of boots to wear with it. We are a huge fan of of cowboy boots with splashes of color. There are more exciting boot options than ever before for weddings.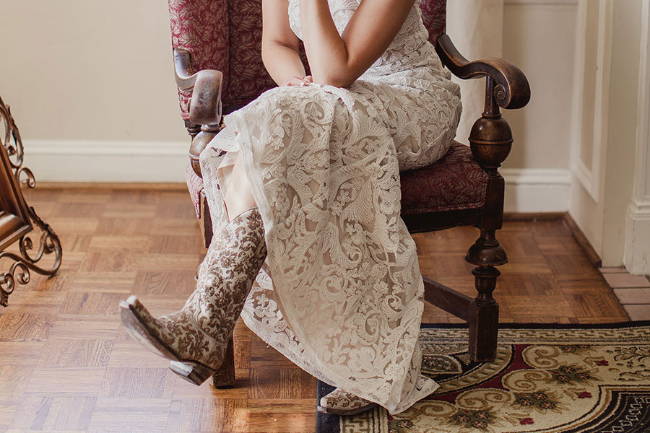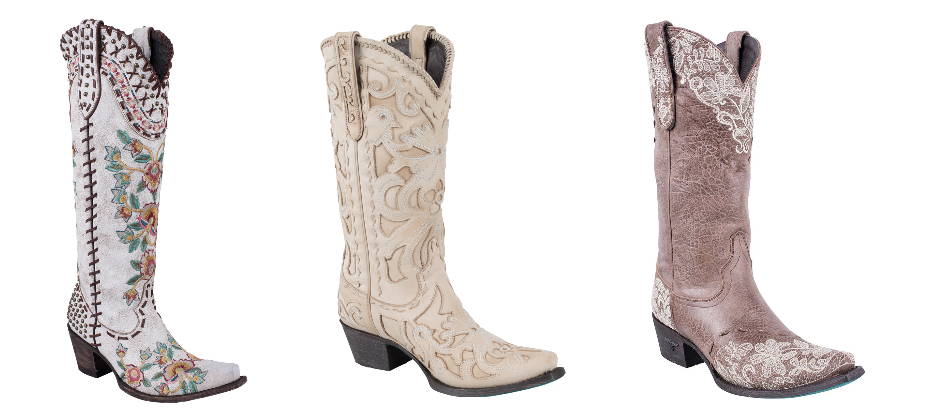 We also recommend getting matching cowboy boots for the bride and groom. At Pinto Ranch, we can special order boots from Lucchese, Stallion, Rios of Mercedes, or Rocketbuster with unique leather inlays or initials to personalize every aspect of your wedding day. Just make sure that you get your order in at least 6 months in advance. Please contact us for more information on special ordering a unique pair.
See our full selection of women's cowboy boots to find the pair that reflects your style and personality.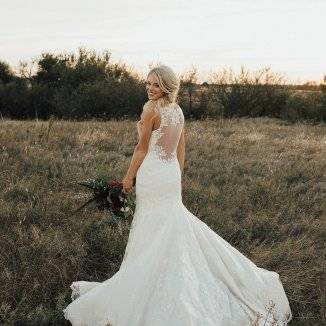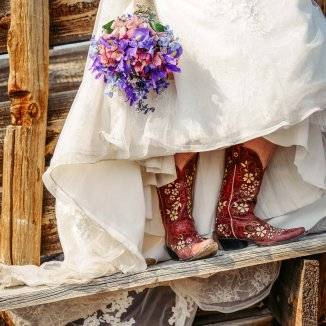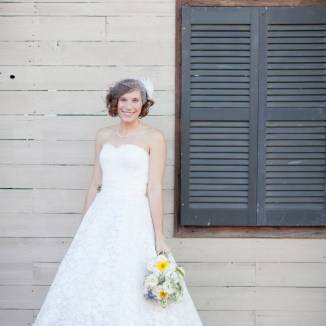 Bridesmaids should wear a dress in coordination with the wedding colors. Short or tea length dresses are great for a more casual feel for the wedding party, while a long dress is considered more formal. We highly suggest each bridesmaid have her own pair of cowgirl boots and a piece of western jewelry to complete her look.
---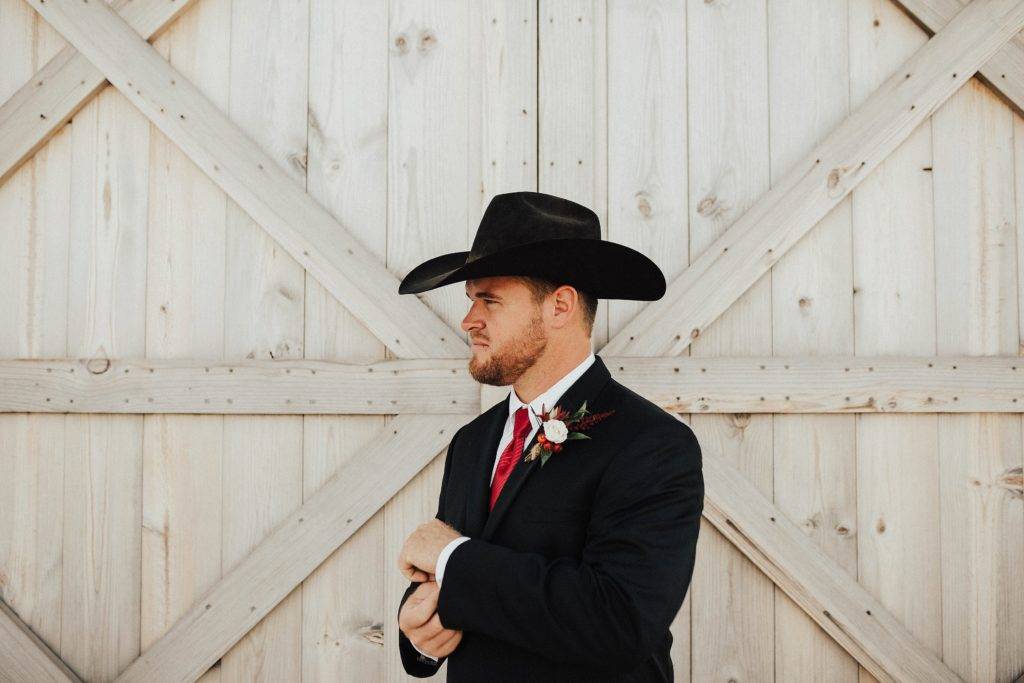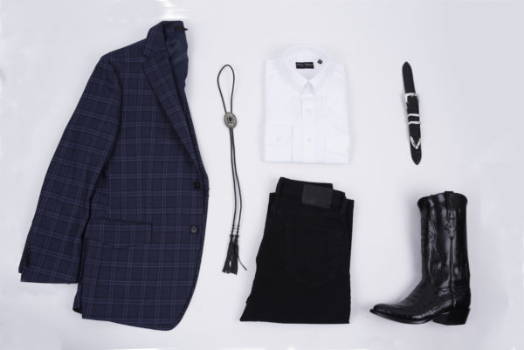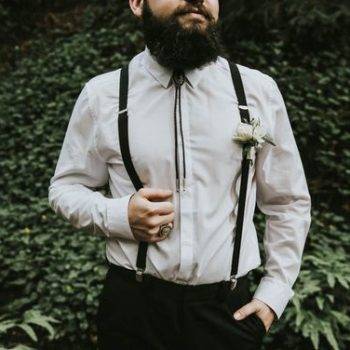 Bolo ties bring out the elegance of western attire. They add a rugged, refined accent to a suit, and they're definitely western.
Replace your bow tie for a bolo this year and embrace the western chic. If you've never worn a bolo tie, we've got you covered. We have a whole blog on how to wear them.
Don't be a afraid to let the groomsmen have a little bit of fun with their western look. Try these bolo ties or a western leather vest for a more traditional western look, or these fun western ties for a more playful outfit. If your wedding is more casual, the groomsmen can also simply wear jeans and a blazer. But we all know the decision is ultimately up to the bride.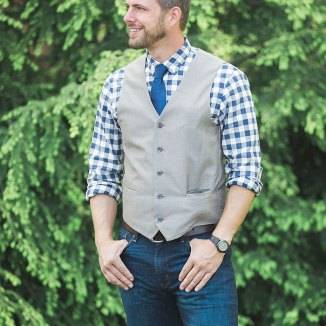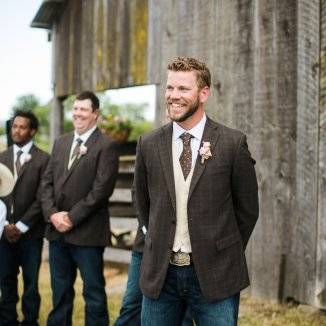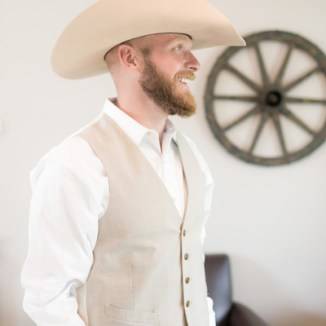 ---
The entire theme of a revolves around the invitation. Your invitation is a great way for guests to get a taste of what the wedding will be like. Some popular invitation themes for a western style wedding include:
Mason Jars

Lace

Wooden Backgrounds

Chalkboard Lettering
Also consider the font selection for the invitations. Stay away from serif fonts with a high contrast in weight variation. Instead, choose more romantic script fonts, playful sans serifs, and serif fonts with little contrast in weight variation.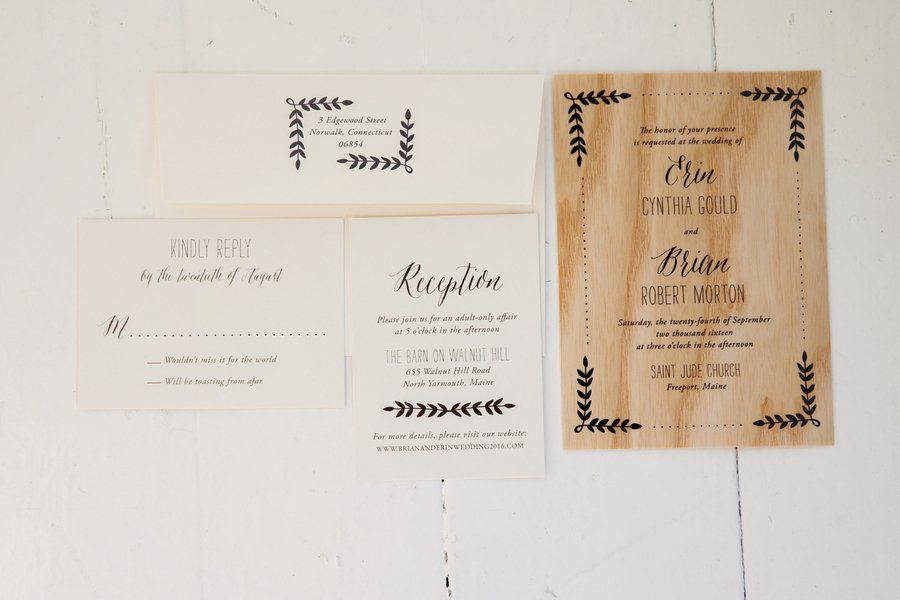 Because western weddings are typically held outdoors, it is best to do a western-themed wedding in the spring, summer, or early fall before the weather can get too cold outside of these seasons.
---

The colors chosen for a wedding also contribute to the overall feel. Most western or country weddingsare heavily influenced by nature, so consider choosing a color palette with earthy tones contrasted with a brighter hue.
While most colors can be worked into just about any aesthetic, the following are a few suggestions on colors that contribute to a more western atmosphere:
That being said, consider the season of the wedding when selecting colors; darker hues are better for fall and winter, while brighter ones are best for spring and summer. If you are having trouble deciding what colors to choose, try using a wedding color chooser like this one from Wedding Wire.
Flowers at a western wedding should look like they were just picked from the garden. Wildflowers with lots of greenery are perfect to add to an overall country vibe. Here are some of our favorite flowers that reflect the feeling of the country:
Sunflowers and Daisies

Cacti and Succulents

Hydrangea

Baby's Breath
When preparing flowers for the wedding, consider wrapping the bouquets and boutonnieres with twine or burlap. Or add pheasant feathers for another nature-inspired touch. The delicate aesthetic of the flowers paired with natural textures is 100% country chic.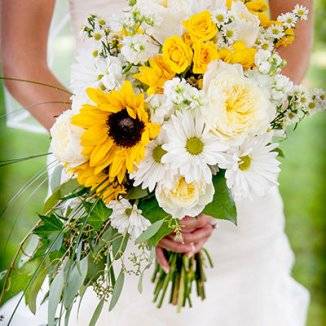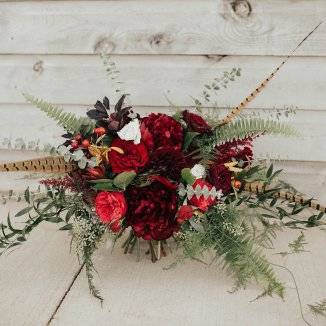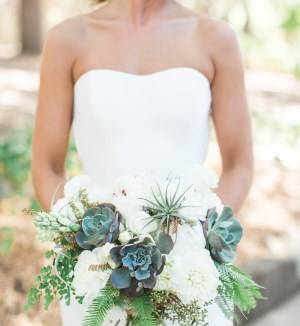 The location, menu and decor set the tone for your wedding. Wow guests with just the right rustic touches in a beautiful setting.
When planning a western wedding, it is a no-brainer to go with a barn, lodge, or outdoor venue. A rustic location set in the country creates a unique and unforgettable atmosphere for your guests. But when choosing to go with an outdoor venue, keep in mind how hot or cold it will be on the wedding day. For hot summer days, an area with and shade or other coverings will help keep guests cool.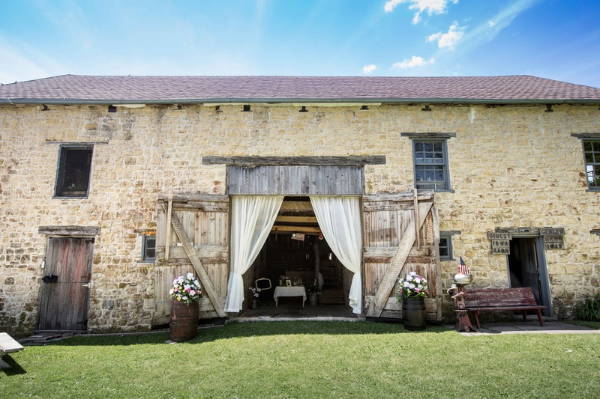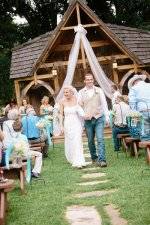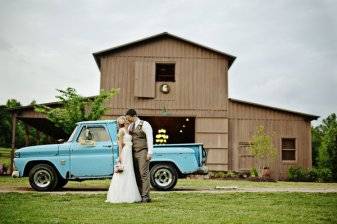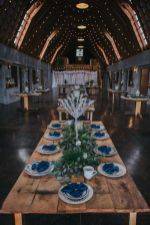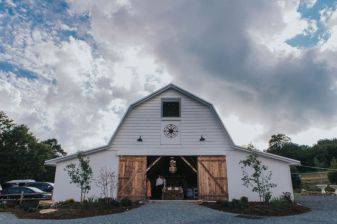 A western wedding is the perfect place to serve BBQ, although it doesn't have to be the only option. When setting the menu for your guests, consider other on-theme genres like Southern-style fried chicken and biscuits with fresh greens or go South of the boarder with fajitas and margaritas.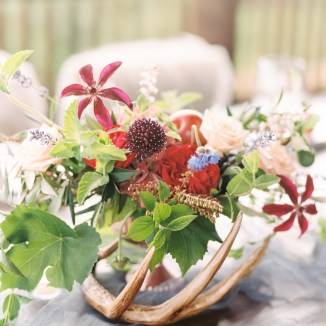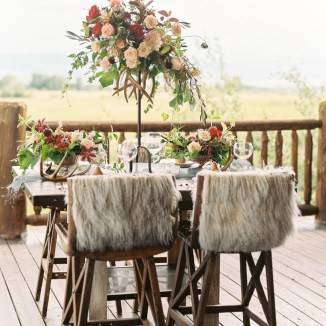 Regardless of whether you choose a barn or an open field for the reception venue, it is important to create the mood with western lighting and rustic decor. Use candles, torches, or even lanterns to create a romantic atmosphere that is almost like being at a campfire. Consider placing candles or other open flames inside glassware like mason jars for safety reasons.
Centerpieces should be inspired by nature. We recommend using tree stumps as the base of a centerpiece. Decorate the trunks with your favorite flowers, photos of the bride and groom, or candles.
If your venue has a lot of open space, consider bringing wooden furniture to fill up space and create focal points. Set up a couch with some chairs and add some old barrels to create a cozy, western space for the bride and groom to sit when they have a chance. We also love the idea of including a chalkboard with messages to your guests including where to sit, what type of food is being served, insights about the couple, etc.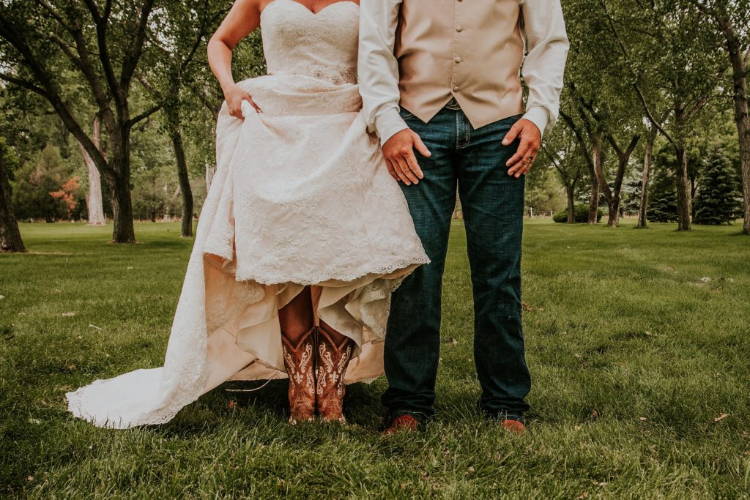 Check out our Chic Western Weddings 101 Guide for an easy way to save, share or pin all of the fun western wedding tidbits from this post. Congratulations on your big day!

comments powered by

Disqus
---