Posted by Pinto Ranch on Feb 6th 2020

You might not "get it" the first time you visit the Rocketbuster workshop. Rocketbuster makes cowboy boots, and they're unlike any cowboy boots ever seen before.
The Rocketbuster boots workshop is filled with colorful boots that play by their own rules, covered in brilliant art designed by Nevena Christi and her team of diverse, bright artists and bootmakers.
The workshop is more than just a place where boots are made - Nevena has turned it into a home. The walls are covered in colorful and funky art, vintage neon signs, old western romance posters, and enough six shooters to arm the whole town of Marfa.
Supposedly, all the guns are cap guns, but this is Texas. I'm not taking any chances.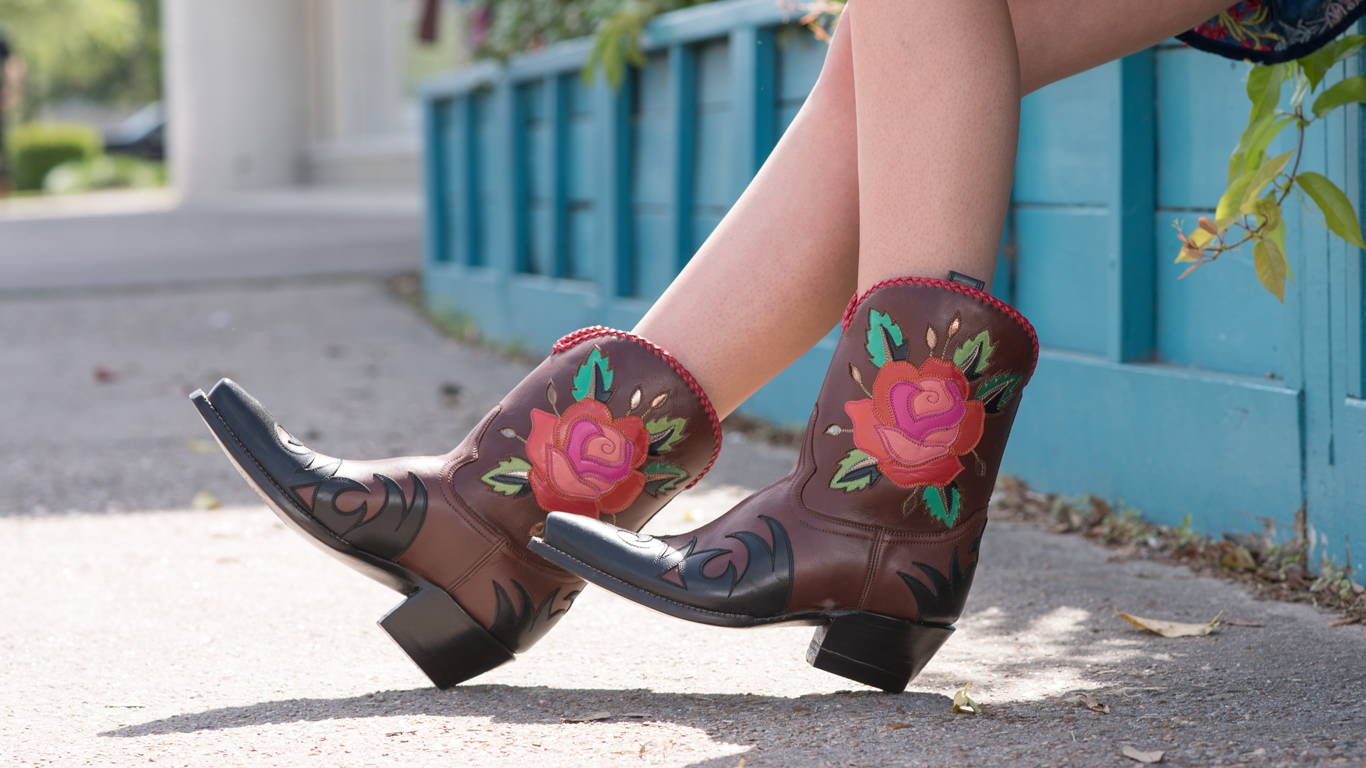 The truth is, you don't have to "get it." Rocketbuster is revolutionary, and the kind of genius that's needed to make Rocketbuster cowboy boots doesn't need to be "got."
It works on its own.
The Rocketbuster boots workshop has been lovingly and creatively crafted to inspire, excite, and amaze. The spirit of creativity that lives in the workshop comes through in the boots.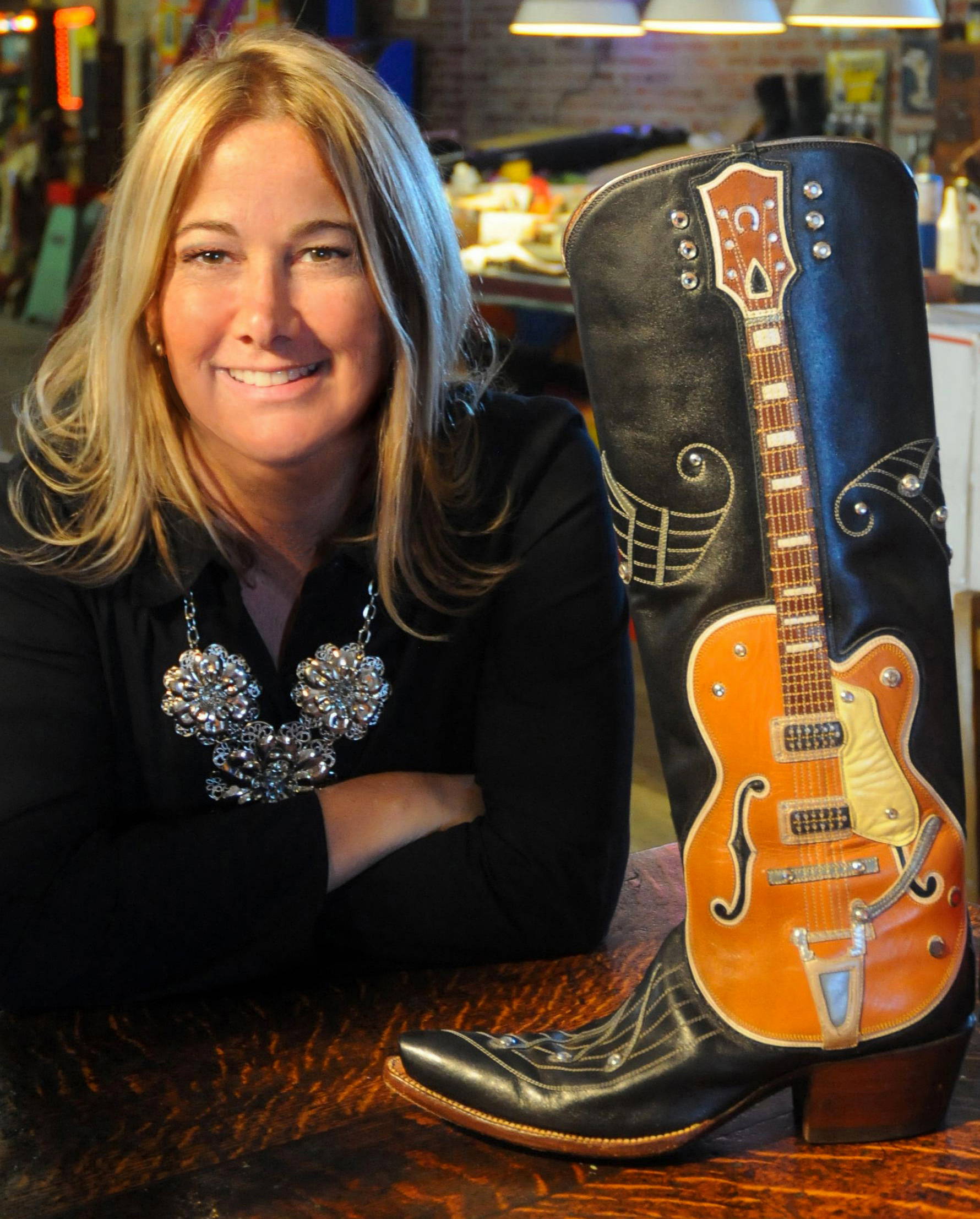 Nevena Christi might be the most interesting woman in the world. If she isn't already, she's sure in the running.
Nevena, whom everyone refers to as "The Bosslady," is a rare breed of north meets south. Originally working in the most notorious of Yankee towns, New York City, Nevena has a background in all things sartorial.
She's studied at such legendary schools as Parsons college, best known for snappy dresser and dressy snapper Tim Gunn, and amazing institutions in Europe that I can't even pronounce, much less spell correctly.
Basically, she's a badass.
"... people will always love Rock n' Roll and Cowboy Boots. They are both American traditions."
Nevena Christi
Rocketbuster only makes about 400 pairs of cowboy boots every year, which means Nevena Christi puts a great deal of work into each and every single cowboy boot she makes.
Celebrities, go-getters, and the daring leaders of many generations turn to Rocketbuster when they want boots as bold as they are.
"The only thing our customers have in common is that none of them are boring and they all appreciate something unique that's been made by hand!"
Nevena Christi
One of the other trails Rocketbuster is blazing is the workspace. When it comes to space, Nevena prefers to think of the final frontier - outer space. Sadly, Rocketbuster cowboy boots can't actually blast off into space (yet), so Nevena has taken to changing the space around her.
Nevena is creating fun and funky environments for work, combining new ideas of freedom and art with the time tested and established tradition of crafting handmade cowboy boots.
Her shop is so fun to be in, tours are often held there.
Your Vibe Attracts Your Tribe

We interviewed Nevena ahead of her 2019 Houston Rodeo Trunk Show at Pinto Ranch:
Pinto Ranch: Do you remember the first boots you fell in love with? What were they like? How did they come into your life?
Nevena Christi: "The first boots I ever fell in love with were candy apple red with stitching from the 1950s. I bought them at a vintage store on Melrose [Avenue] in the 80s. They made me feel like a rockstar! They danced the shy right out of me... It's amazing how empowering a cool piece of wardrobe can be!"
PR: What is your favorite failure? Is there a failure that has set you up for future success?
NC: "In a mixed up sort of way, when I move to El Paso in 97' to take over the Rocketbuster boot company. It was almost bankrupt… I could have quit there, but having left New York with big dreams, I couldn't admit defeat! I worked that much harder to get us where we are today!"
PR: What boots or kind of boots does Rocketbuster get asked to make the most?
NC: "These days it seems like an unconscious contest between my clients to think of wilder and wilder, more outrageous, and over the top boot ideas than the next person. The sky's the limit and we are always up for the challenge."
PR: What is an uncommon habit or absurd thing you love?
NC: "Our vintage travel trailer collection would probably qualify. Obsession, addiction, infatuation 🤪"
PR: If you could put anything on a billboard for everyone in the world to see, what would it be?
NC: "BE KIND and STRIVE FOR SOLUTIONS"
PR: Finally, what be found in Rocketbuster boots that can't be found anywhere else? Is it how the boots are made, who makes them, etc?
NC: "We are the craftsmanship of the past with the possibilities of the future... and an obsessive attention to detail... It's the whole package! It reminds me of that movie where if you weren't enjoying yourself cooking, the food didn't taste good. The same goes for our boots. We have fun at what we do. We love it and it shows!"