Every premium boot we offer is handmade by the best bootmakers in Texas. Bootmakers who know their craft using only premium leathers and tried and true techniques. Generations of bootmakers continuing an artisan legacy. That's why our boots are more than just handmade... they're the best.

We've curated the best bootmakers in the U.S. to make boots that meet our design requirements and our all leather handmade criteria. Know what's in your boot. It's the difference between comfort, longevity and the ability to re-sole in the years to come.
OUR HANDMADE CRITERIA:
Hand-lasted all leather uppers with cream cow leather lining – the best you can get. You will definitely feel the difference inside and out.


Channeled leather insoles form to your feet and allow them to breathe. Most importantly, it is the main differentiator from other boots that use a preformed manmade insole.


Leather heel counters that will form to your feet with wear and give you the best fit and comfort.


Full-size hammered steel shanks give you maximum arch support secured by lemonwood pegs.


Premium leather outsoles which can be resoled giving you years of wear.



Premium stacked leather heels.
From exotic leathers to unique finishes, fancy stitch patterns and hand-stitched toe bugs, our boots stand above the rest. Pinto Ranch houses the largest inventory of handmade boots in the U.S. Most of our boots are made just for us because we listen to what our customers want and our bootmakers have answered. You'll "walk tall" in a handmade boot from Pinto Ranch.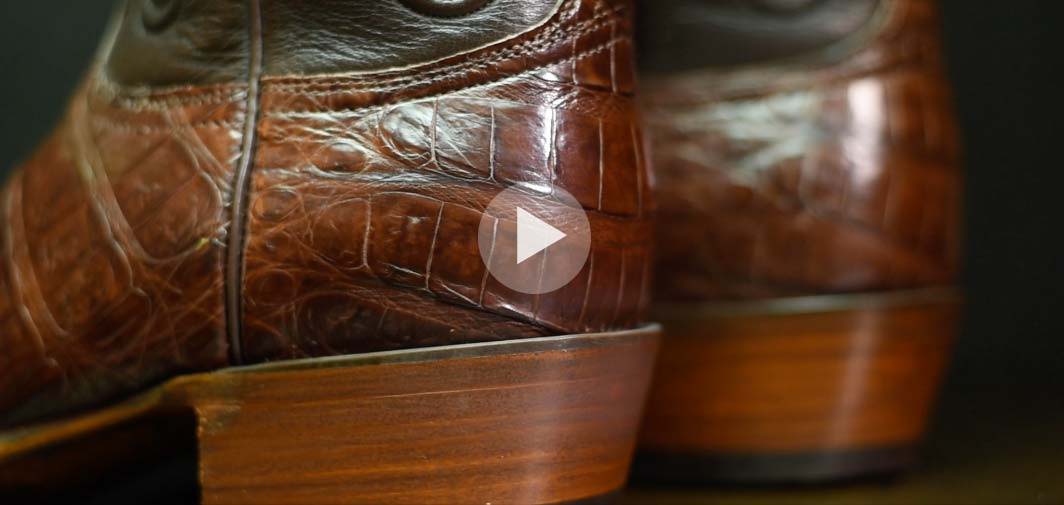 Yep. That's correct. We've worked with our bootmakers to make sure bona fide handmade boots are available for everyone. But rest assured, there's no skimping on the process or the premim materials required for a Pinto Ranch boot. Each boot is worth every penny from the 200+ steps it takes to make a boot to the years of wear each pair will give you. And because our bootmakers have been around for generations, they know how to pick the best skins and leathers at the best prices. We're also choosey about our fashion boots like Old Gringo and Lane Boots which start around $295.


Not all handmade boots are created equal. Here's a handy guide to help you ask the right questions when making your boot buying decision.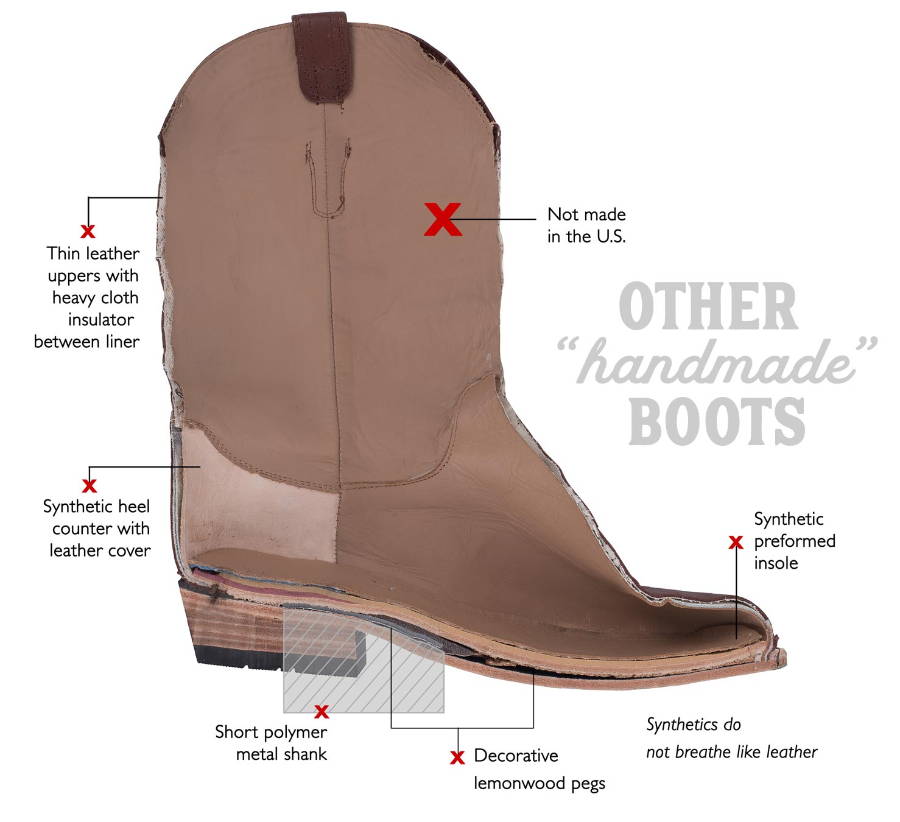 Don't just take our word for it. See what our customers have said about our boots. These aren't tall tales but bona fide testimonials!
ERNIE
Wisconsinasdfsadfsdf

After trying on and sending back 4, yes four pair of Cowboy(full quill ostrich)boots from the other guys that claim "We're half of retail", I have found my Boots!! The very 1st pair sent to me took about 1 day to form to my feet and they haven't been happier. To be succinct, I love 'em! Well worth the extra cash I had to spend. Like my Mother always says "You get what you pay for". And the CSR (customer service rep) couldn't have been more helpful. Needless to say...These are not the last pair I buy from Pinto Ranch

I Love Lucchese [Classics]! Incredible boots, well worth the splurge. Pinto Ranch made an exchange in size incredibly easy; great customer care and service. Glad I made the purchase through Pinto Ranch!

Beautiful design, perfect workmanship, excellent [boots]!

Great choices, excellent service. Received boots 4 days after order. The boots are outstanding, will last a lifetime. The fit is great.
Thank you Pinto Ranch

I ordered these boots because I like the way they look, AND the price was GREAT! I am so pleased with my purchase. The boots arrived quickly and was I surprised....these boots are GORGEOUS! Pictures don't do them justice. Pinto Ranch is a class act. Their Customer Service is second to none. I am absolutely positive that I will shop again and again at Pinto Ranch!

Here's some helpful boot info from our Pinto Ranch boot experts. And if you don't know where to start... give us a call... we're always ready to help! 800.393.8001 toll free or store@ pintoranch.com